Description
HARISON HR-415 AB Roller Wheel Push up Bars Core Strength Abdominal Trainers with Knee Pad and Resistance Bands
HARISON HR-415 AB Roller Wheel Push up Bars
【Good stability】Ergonomic design, stable triangle force, stronger scientific strength, more stability, stronger support and firmness. Push up bars main exercises are muscle groups such as the chest muscles, triceps, abdominal muscles and back muscles.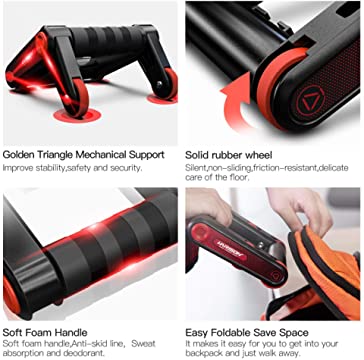 AB Roller Wheel & Push up Bars
3 IN 1 AB Trainer with Knee Pad & Resistance Rope, Double wheel is different from the traditional single ab wheel. Hands can adjust different angles to exercise the muscles of the whole abdomen,experience a new fitness mode, and truly realize a multi-purpose machine.

Lightweight Muscle Builder
Triangle Push Up Bars Greatly enhance The Stability And Help You Target Specific Muscle Groups, The front and back two-wheel bracket of this AB exercise equipment can be folded, You can brings it wherever you go.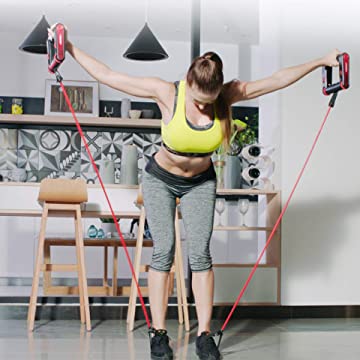 Great for All Levels
This push-up exercise equipment set fits all fitness levels home gym workout, from beginners to advanced. No matter you are adults, men, women, or children, it is your ideal AB and full-body exerciser.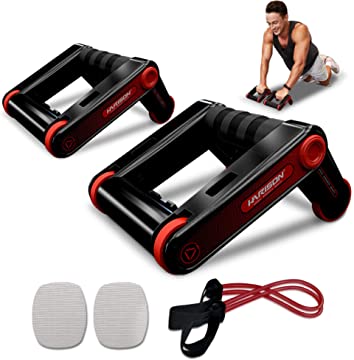 What You Get:
2 x AB wheel & push-up bars Size:7*7 in; 2 x Knee pad Size: 8*6.5 in; 2 x Pull up rope Size: 35; 100% satisfy if any issue!
Special Triangle Design-greatly enhance the stability and help you target specific muscle groups
Multi-angle Side-sliding Exercise: 
Multi-angle provide more stretching and enhance a series of abdominal and muscle-lengthening exercises, Not only for abs, but exercise your whole intrinsic muscles groups.
Easy to Folding, Light and Portable :
Roller folding design make you free to exercise, perfect for training at home, gym, office, or travel everywhere.
Silent Workout:
Solid rubber wheel ,quiet and not hurt the floor. You can enjoy your own space without disturb others.
Pull Rope & Kneeling pad:
Pull rope used with elastic rope to reduce the difficulty of movement , further exercises each muscle group of your body, Knee pads for non-slip wear resistance, reduce impact during sport.
Special Triangle Support:
The Triangle Push up bars greatly enhance the stability and help you target specific muscle groups – scapular Muscles, Triceps, Deltoids & Pectorals,and sculpts your entire upper body
Super Soft sponge Handle: 
Absorbent sponge, anti-skid and abrasion resistant, provide you a comfortable using experience and make you easily stick to your workout.
Q: How big is this ab roller wheel ? Can I use it at the office?
A: HR-415 is around 3 Pounds, compact and foldable , you can use if both at home or office  . Very good choice for AB workout and multional.
Q: Did it come with the resistance band like the video?
A: Yes , this HR-415 ab roller with bands , also come with a kneed pad.
Q:  If  I want to start building muscle, is it better to buy this AB roller?
A: It is a good choice for home workout , The quality of this HR-415 AB roller is better than customer previous ones(according to 2021 customer research) . Harison Fitness offers a 21-day training program, customer could follow the class practicing with it.
How to install  the resistance band for HR-415?