Best Home Strength Training Equipment to Keep Fit in 2019
Having strength training equipment at home is one of the best ideas to ensure that you don't miss out on your strength training. However, you don't have to stock up a whole gymnasium at home because it's costly and, in most cases, you use only a few pieces of equipment. A home workout saves you time especially when you have a busy schedule.
In my case, I pay a visit to my gymnasium once in a while because I have collected all the necessary equipment that I need to work out at home. In this article, we're going to look into the best home strength gaining equipment. So, keep reading to find out more about it.
1) Kettlebell A kettlebell is one of the most versatile equipment to have at home. Its popularity came from Russia where it was first used by bodybuilders to keep fit.
A kettlebell utilizes minimal space at your home and yet it's one of the best and essential home training equipment. Apart from strength training, a kettlebell is also useful for cardiovascular exercises.
A kettlebell is useful in carrying out extensive exercises at home including;
• Kettlebell press
• Kettlebell pushups
• Jump squats
• Kettlebell swing
• Kettlebell jerk
• Kettlebell snatch
• Goblet squat
• Kettlebell front squat
• Overhead squat
• Turkish Getup
Kettlebell exercises are hard, but considering how fast the results follow, it's worth every sweat.
The benefits of training using a kettlebell include:
• It develops whole body strength.
• Incorporates your strength with flexibility.
• Cuts the fat out fast.
• Requires minimal storage space and maintenance.
Kettlebells offer the most compared to any other workout equipment you can have at home. They can be used by a beginner or an advanced lifter to keep fit.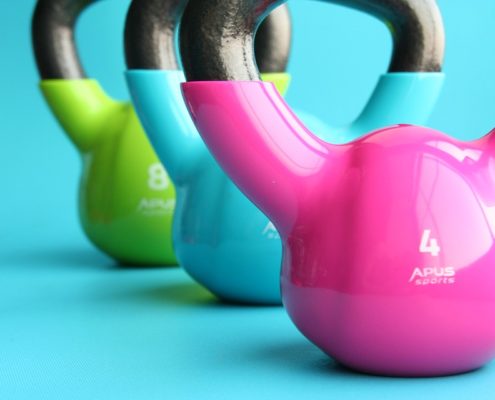 2) Weight Bench A weight bench lays down the foundation for most of your weight training at home. This makes it invaluable equipment to have at home.
Weight benches are available in different forms. Some are flat, and others are adjustable to accommodate decline and incline positions to facilitate more workouts.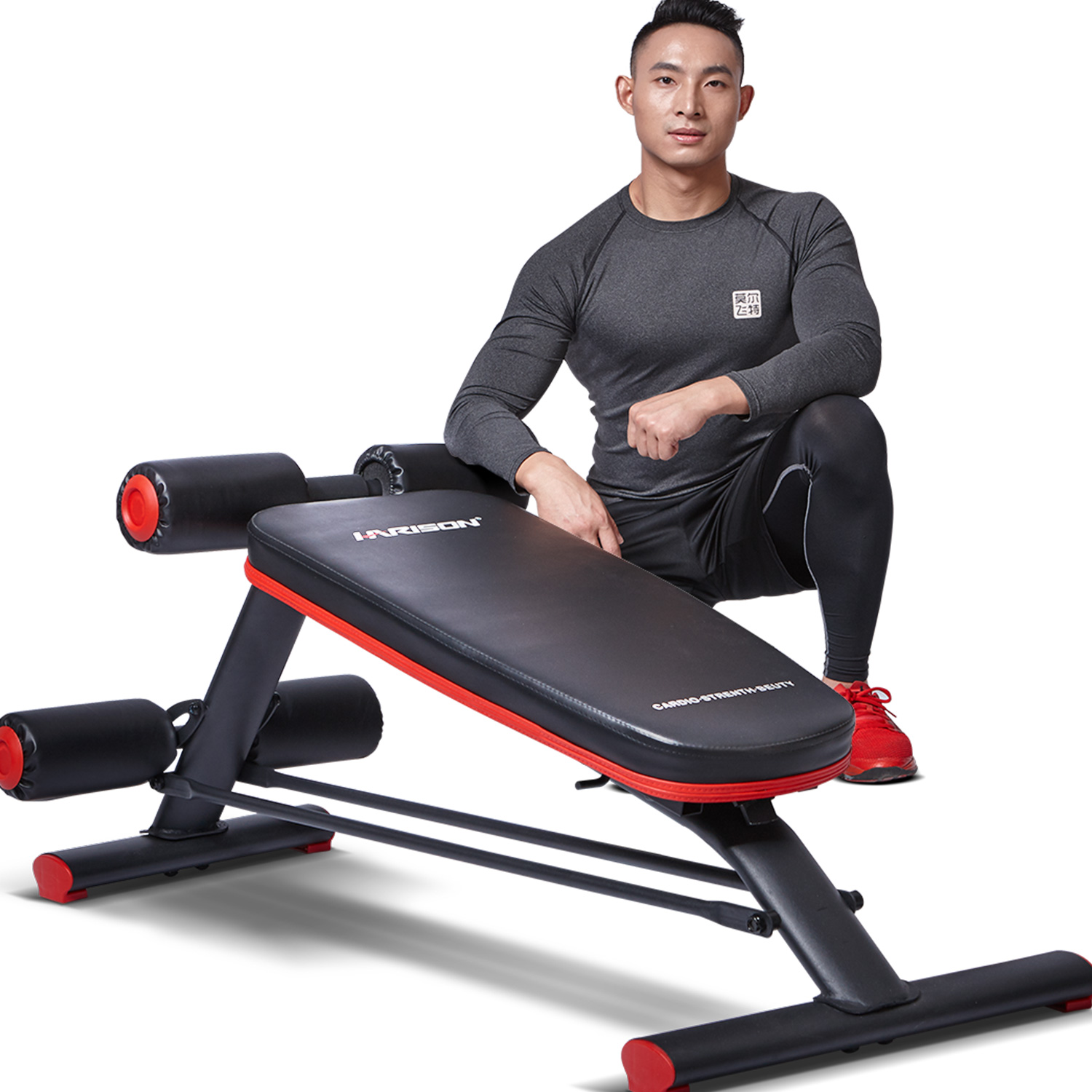 A weight bench lets you lift weight safely, and it's versatile enabling you to perform a lot of different exercises at home including:
• Chest press using barbell or dumbbells
• Seated shoulder press
• Barbell triceps press
• Bicep curls
• Leg extension
• Exercises for Abs
A weight press has the following benefits:
• They are versatile as they allow you to use different training equipment and carry out many workouts.
• They provide ample support to your back and core allowing you to lift weight safely.
Although standard weight benches are available in the market, it's always better to choose a strong and stable one even if it's slightly expensive, to ensure comfort and safety during your training.
3) Power Tower is one of the most beneficial strength training equipment. It's a pull-up and dips station which allows you to build up strength or lose weight while using your body weight to train.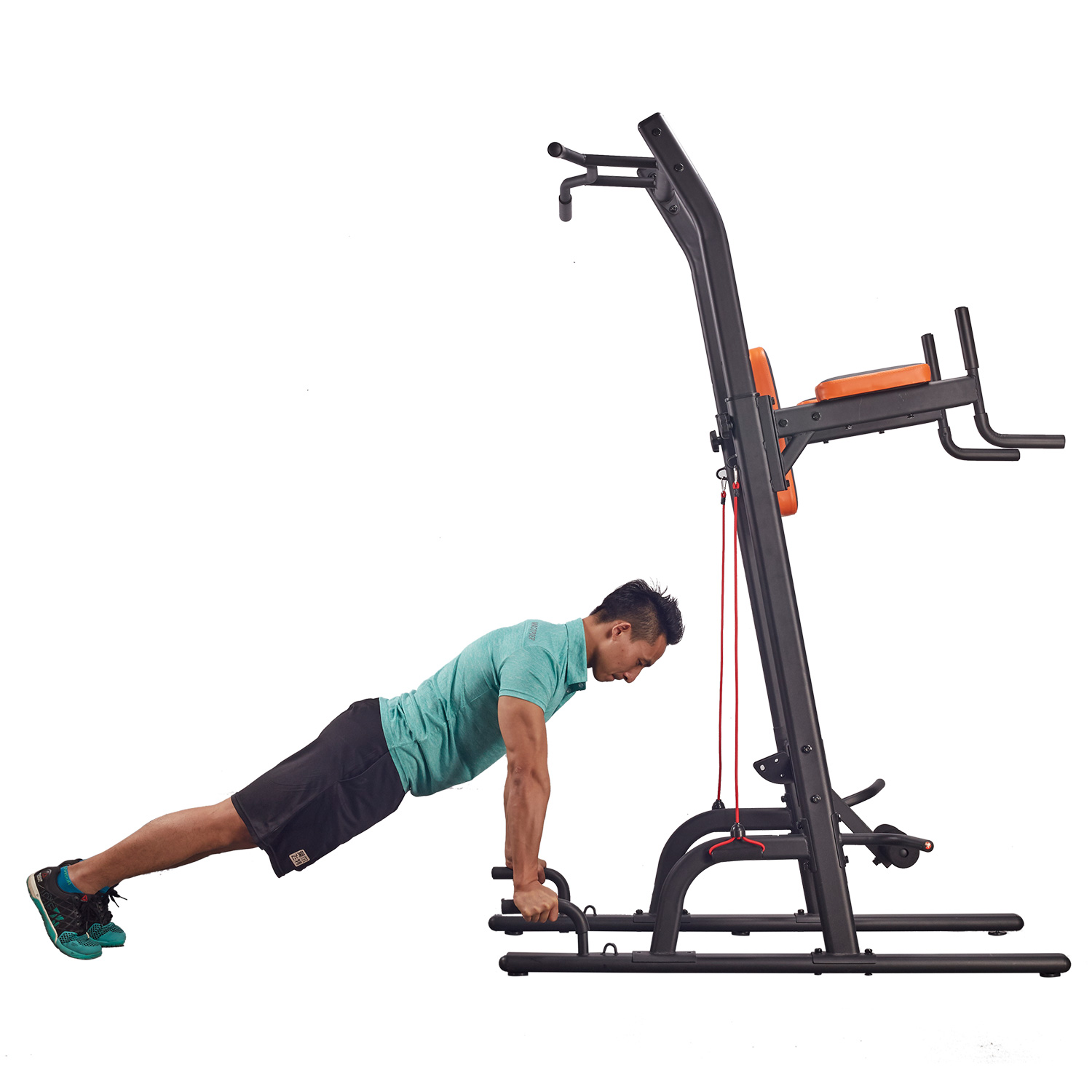 A power tower allows you to carry out the following exercises to strengthen your back, core muscles, biceps, triceps, chest, forearms, and shoulders:
• Pull-ups
• Dips
• Leg Raise
• Knee Raise• Push-ups
• Pistol squats
• Planks
The benefits of having a power tower as one of your home strength training equipment are:
• It's versatile allowing you to carry out a lot of exercises focusing on different parts of your body.
• It's perfect for both beginners and expert level workouts.
• It safe even when carrying out fast-paced exercises.
• Compact and easy to store.
If you're looking for simple equipment which allows you to carry out all your training at home using a single station, then this is for you.
4) Home Gym A home gym or a multi gym is an all-in-one workout machine which allows you to perform a total body workout at the comfort of your home. They are perfect for carrying out all your strength training while focusing on a specific muscle group at a time.
The workouts that you can carry out on your home gym include:
• Bicep curls
• Triceps pushdowns
• Lateral raise
• Front Lift
• Rows
• Leg press
• Leg extension
• Squats
• Chest press
The benefits of a home gym include:
• Gives you a full body workout.
• Builds your strength and burns fat.
• Saves you money: Although home gyms are expensive, they save you a lot of money in the long run.
• Saves you time as you can do all your workouts at home.
• Offers total safety to work out alone as there's no weight resting over your body.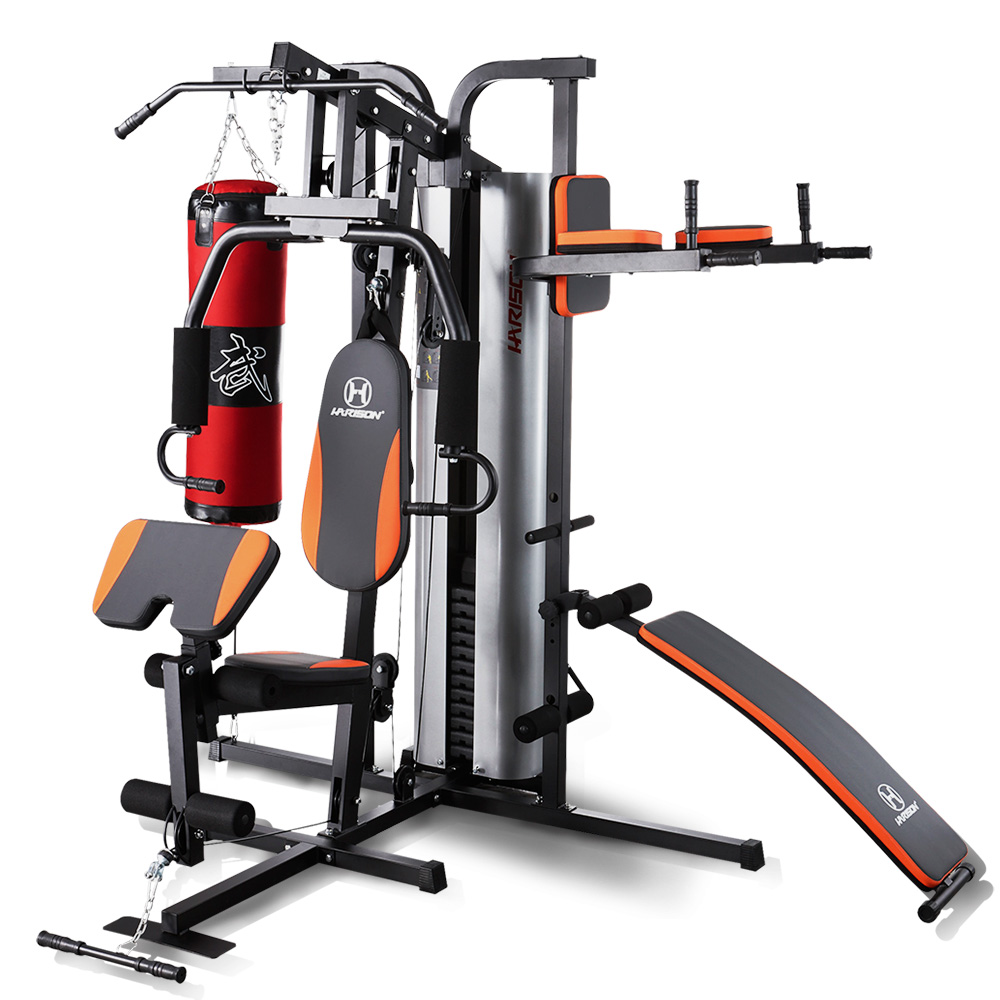 Final words
Home training equipment is vital as we have seen in this article. They offer you years of strength training and weight loss at only a one time cost when buying them. They also save you time as you can carry all your workouts at home instead of running to and fro the gym.
The above equipment, i.e., Kettlebells, weight bench, power tower, and home gym are the best home strength training equipment as they are versatile and occupy small spaces at home. Always buy the one that fits you best for maximum benefits.
https://www.harisonfitness.com/wp-content/uploads/2022/02/Special-Offer-HARISON-HR-609-Weight-Bench-Adjustable-Utility-Exercise-Workout-Bench-with-Barbell-Rack-and-Priest-Pad-for-Full-Body-Workout.jpg
1000
1000
Harison team
https://www.harisonfitness.com/wp-content/uploads/2022/08/HARISON-Back-to-Home.png
Harison team
2019-03-16 03:29:56
2022-08-26 09:42:16
Best Home Strength Training Equipment to Keep Fit in 2019