Gold's gym is a place where you can workout without hurting your wallet. On average, a membership only tends to cost around $40 a month. Plus, believe it or not, some locations may be open to offering you a free membership trial. This can be great to get you through the door, but Gold's personal training program is what makes their gym truly unique. So, if you're looking for a place to get started, Gold's might be just the place for you.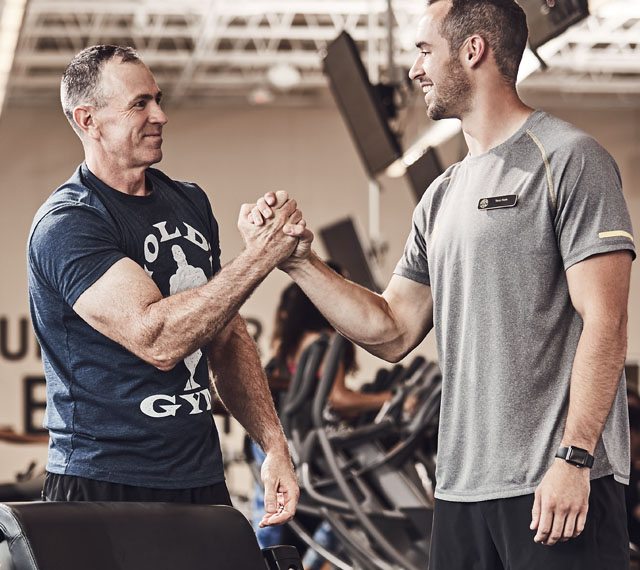 Gold's Gym Personal Trainer Pricing
If you're looking to hop on a personal training program, Gold's Gym provides one at an affordable cost. Depending on the level of proficiency in the trainer, their general rate begins at $60 per hour. This is only the baseline, and if you choose to go with someone more advanced, you can expect to pay up to $100 per hour. The reason for the price difference is due to the fact that some personal trainers have more experience than others, which can lead to better results. So, if you're going to be using a personal trainer at Gold's Gym, be ready to pay between $60 and $100 per hour.
If you're looking to save some money, you can also purchase sessions by multiples of 10. This will allow you to get more sessions at a better rate. Now, if you're really looking to save money, you can also opt for group training sessions. This will take away from the one on one experience, but will allow you to save money in the long run. The cost of group sessions depends on the amount of people in the group, but expect to still pay around $30-50 per hour depending on the trainer.
How Are Gold's Trainers?
If you're going to be paying between $60 and $100 per hour for personal training, you'll want to know how good the trainer is. Luckily, Gold's Gym features one of the better personal training programs. Gold's Gym has great trainers, because unlike some gyms, you get a whole hour of one on one training. This one on one mentorship is crucial, because it allows the trainer to build a relationship with you and adjust your workout plan more accurately. The reason Gold's trainers are so good, is due to the fact that they have the time to build a solid relationship with you. The personal touch really helps when you're looking to have someone push you towards your goals. All of Gold's personal trainers are also certified, and depending on how many classes they take, can be elite in their craft.
Outside of the one on one sessions, Gold's personal trainers can also make recommendations for you. These recommendations can be anything from stretches to cardio, and are designed for you to do on your own time. This can help you keep on track, and get you better at working out on your own. Personal trainers at Gold's Gym offer personal training with the emphasis on personal.
Is It Worth It to Hire A Gold's Gym Personal Trainer?
The answer to this question is entirely dependent on you. If you have your own routine, and prefer working out on your own, than a personal trainer is generally not needed. On the other hand, if you're new to the workout experience, a personal trainer can give you a boost when you get started. It is great to have a coach hold you accountable to your goals, and overall, a personal trainer will enhance your progress even if you have your own routine.
The next thing to look at here is the price point. If you compare Gold's personal training rates to other gyms, you'll quickly notice that Gold's Gym is a bit more expensive. This is due to the fact that their sessions are a full hour, and offer a bit more of a personal touch. So while it might cost more, you'll be getting better results for your dollar. This makes the value that a Gold's Gym personal trainer can provide you all the more worth it.
Conclusion
Overall, Gold's Gym offers an array of great services to help you reach your workout goals. Whether you're looking to stay in shape, build muscle, or slim down, a Gold's Gym personal trainer will be there to help you along the way. The personal trainers at Gold's Gym offer a unique personal service, and despite the price, their rates are definitely worth it if you crave results.
0
0
Harison team
https://www.harisonfitness.com/wp-content/uploads/2021/11/Back-To-Home.png
Harison team
2019-08-28 23:21:51
2019-08-28 23:21:51
How Much Does Gold's Gym Personal Trainer Cost?