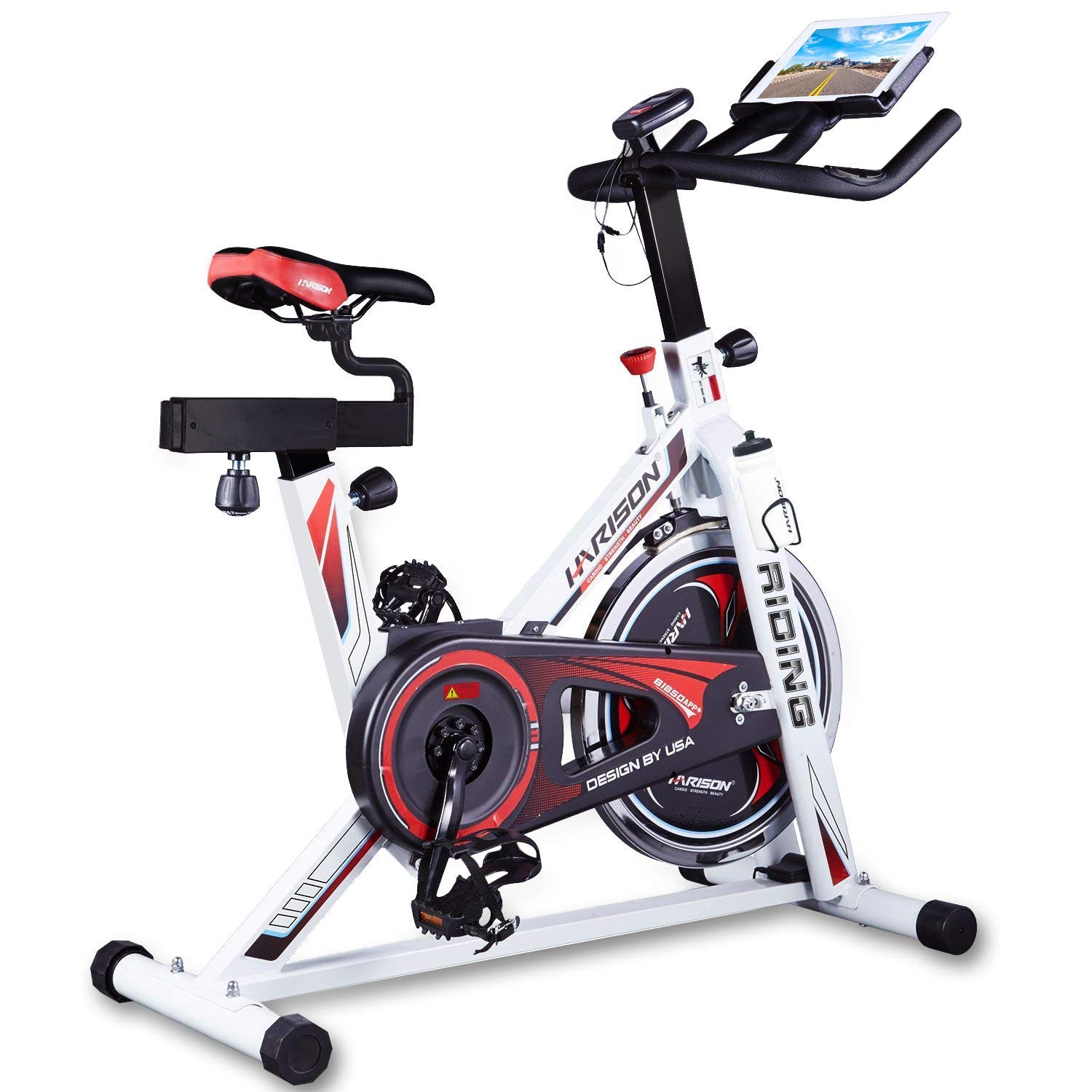 HARISON B1850 Indoor Cycling Bike Review
The cool and fashion HARISON B1850 indoor cycling bike is an affordable and practical spin bike for home use. Whether you are beginner or advanced indoor bike enthusiast, this pro indoor cycling bike will help you get the best workout. The B1850 is a durable, quiet, smooth exercise bike that very suitable to use at home. No matter your goal is strength training, weight loss or other fitness target. It can be a wonderful partner! It's special design with iPad holder will make your exercise interesting.
Click here to check the price of the HARISON B1850 Indoor Cycling Bike on Amazon.
Dimensions:
Height: 44'' (111.8cm)

Width: 19'' (48.3cm)
Length: 47″ (119.4 cm)
Product Weight: 88lbs
Max user weight: 280 lbs
Features: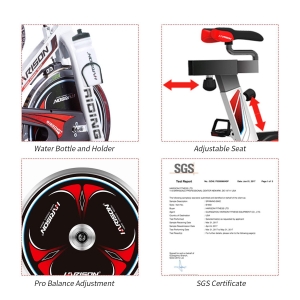 iPad holder
Reasonable price
Very sturdy
Material: 1.8MM stainless steel
Resistance: Adjustable via a small knob
Seat adjust: Horizontally and Vertically
Free water bottle and its holder
29 lbs flywheel with belt drive
Handle and seat are adjustable (4 directions)
Real-time digital monitor
Shipping and Assembly:
The HARISON B1850 will be shipped for free if you buy it on Amazon. For the installation, no worry, this home bike is very easy to install. The fly wheel and bike's main structure come ready assembled. And customers will be provided with the assembly video which will guide them to attach the handlebar, seat, pedals and bottom support. It will take about 20 minutes or less.
What We Love About the HARISON Pro Indoor Cycle:
Reasonable Price
If you are looking for an indoor bike under $400, B1850 with its wonderful features is the good choice and will help you to have the workout jobs well done.
Special offers
iPad holder: HARISON B1850 is designed with the tablet holder, which will help users to stand the iPad or other tablet. So that users can see movies or checking other staff when exercising. Make the workout time interesting.
Water holder and its bottle are provided for free. It is very necessary to supplement during your exercise. It's a good idea to drink several ounces of water every 10 to 15 minutes during high-intensity exercise. HARISON bike set its bottle holder on the right place, so you don't need to get off the bike to reach the water. Very user-friendly and convenient.
Seat/ handlebars Adjustable Horizontally and Vertically
The handlebars and seat can be adjusted vertically and horizontally to better accommodate your body shape and riding posture. These basic features also make it possible for you to sit or stand while riding, just as you can on a road bike.
Real-time digital monitor
A Multi-functional Digital Monitor is essential for any professional exercise bikes like this one.
Making your work-out numerical is necessary to help you set up work-out plans.
It monitors time, speed, distance, calorie, RPM, ODO, scan, pulse.
Pro Saddle
The saddle is exquisite and pro designed to reduce the friction between legs and the seat while you riding on the bike, sometimes it may be a little bit compact for someone who like to sit on the bike for a long time, luckily, you will be provided with a free wider one if you need.
HARISON is a American brand which focus on providing pro and high-quality fitness products to users. This B1850 indoor bike is one of its popular items. If you are looking for a best buy bike with less money, then it won't let you down. When comparing to other expensive bikes, B1850 have the basic functions and some other special user-friendly features, also along with the sturdy, quiet, smooth advantages which a excellent spin bike should have.
How is the review of Harison B1850 home bike from some other websites?
Best Indoor Spinning Bikes for Home + Top Rated 11 Bikes Reviewed 2019

HARISON Pro Indoor Cycling Bike Review-howtobuildthatbody.com
HARISON Professional Indoor Cycling Bike-topexercisebikesreviews.com
Frequency Questions and Answers on B1850
Q: I am only 5 feet tall…will this fit me ok?
A: Sure, this pro spin bike is suitable for people's height from 4.9 feet to 6.6 feet.
Q:If I can feel like riding a real cycle when using this?
A: Fully adjustable seat and handlebar perfect for flexibility, Continuous adjustable resistance gives you the experience of a real-road feeling. If you can imagine the scenery on the roadside in your mind, that will be perfect.
Q:What's warranty on this product?
A:It is provided 1 year warranty from the day you received it.
Q: Does the bike accomidate any size ipad?
A: The size of iPad holder is about :3.74(L) x 2.17 (W), you can reference. I recommend that the iPad not be too large is better.
Q: I want to know if the spin bike is noisy?
A: It makes a soft "whirring" sound as the wheel spins and you turn the pedals. It's not loud enough to be distracting or drown out any other sound, so you can easily listen to music, watch TV/videos, or have a conversation at a normal speaking level while riding the bike.
Q:Is this spin bike sturdy?
A:Yes! It's very sturdy and heavy duty.
Read More: Best Indoor Cycling Bike for Sale in 2018
https://www.harisonfitness.com/wp-content/uploads/2018/09/b1850.jpg
1500
1500
Harison team
https://www.harisonfitness.com/wp-content/uploads/2022/08/HARISON-Back-to-Home.png
Harison team
2018-10-25 05:21:35
2022-08-26 09:49:24
HARISON B1850 Indoor Cycling Bike Review