HARISON B8: Best Recumbent Bike Workout Machine for Lower Back Pain
"I don't feel good with my knees after 1 month running outside to lose weight. Now I am looking into purchasing an equipment which is friendly to my knees when exercising. It will be better if it wont cause any other pain when using it. Any suggestions are welcome. Will kindly check and think about it."
If you are also looking for one of this machine, then recumbent exercise bike is your best choice. This machine will support your body and transfer all your body weight from your joints and knees onto itself.
Recumbent bike give people the safe and painless workout. It is the gentlest of all exercise bikes. Calorie burn is less intense than it is with upright stationary bikes, but the best recumbent stationary bikes can still be excellent tools for weight loss. They're also useful for rehabilitation, muscle toning and cardiovascular workouts.
Today let's get to know one of the best recumbent exercise bike. The HARISON B8, this is our new design product, which aims at helping more people to get an ideal workout.
HARISON B8 Recumbent Stationary Bike
HARISON B8 Recumbent exercise is an excellent bike machine for you to shed unwanted pounds and increase cardiovascular endurance without pains and stress on your joints and back. Let's start to know the details of it.
Basic Data: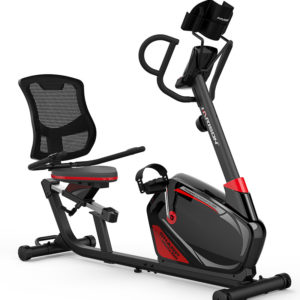 User Weight Capacity: 350lbs
Product Weight: 77lbs
Assembled Size: 60.24 x 21.65 x 51 inches
Resistance Levels: 1~14 levels
Display: LCD display
Seat: Comfortable Oversize Padded Seat
Heart Rate Monitor: Side Armrest
Bluetooth Connectivity
Key Features
Magnetic Control System allows you to challenge yourself over time. Excellent design helps you to release the stress of joints and knees when working out.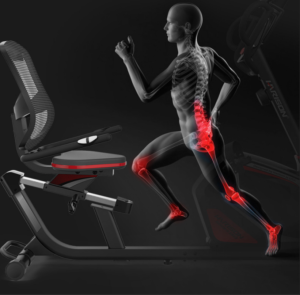 14 levels of resistance for a wide rang of workout intensity options allows the user to adjust the tension level for an easier or more difficult workout.
HARISON B8 Recumbent exercise machine with Pulse can support the weight up to 300 lbs.
The high-quality steel material and well design will give you a stable workout.
The wider seat for comfort and mesh seat back for wicking when exercising.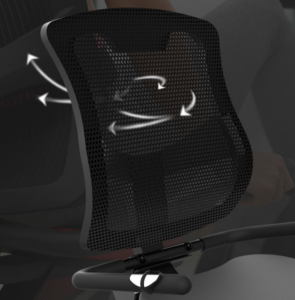 Large, easy-to-read LCD display indicates distance, calories burned, time, speed, and heart rate information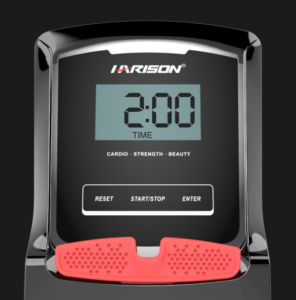 Hand Pulse Sensors allows you to stay within your Target Heart Rate Zone.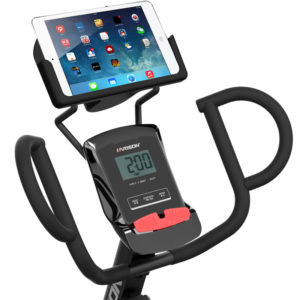 HARISON B8 offers a smooth and quiet workout to users, so that it will not disturb others when using it.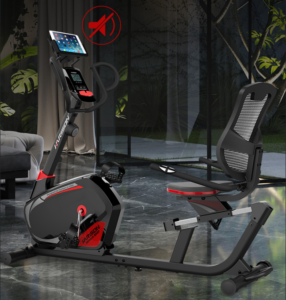 Frequency Ask Questions and Answer about Recumbent Bike
Q: What I should look out when Choosing a Recumbent Bike
A: Seat and seat back: a padded seat and mesh seat back
User Weight Capacity: Up to 300lbs is better.
Stability: relate to good material and well-design
Q: What muscles do recumbent exercise bikes work?
A: Mainly works on Quads, the quadriceps are the large muscles on the front of the thighs. Besides, it can also work on other muscles like glutes, hamstrings, Abs, Calves, and tibilais anterior.
Q: Are recumbent exercise bikes safe?
A: Recumbent bikes are…Safe. Yes, they are. They are no less dangerous to ride than any other type of bike. Actually, they are the gentlest of all exercise bikes.
https://www.harisonfitness.com/wp-content/uploads/2021/09/HARISON-EXERCISE-BIKE-B8-3.jpg
1500
1500
Harison team
https://www.harisonfitness.com/wp-content/uploads/2022/08/HARISON-Back-to-Home.png
Harison team
2018-12-28 03:52:39
2022-08-26 09:44:49
HARISON B8: Best Recumbent Bike Workout Machine for Lower Back Pain