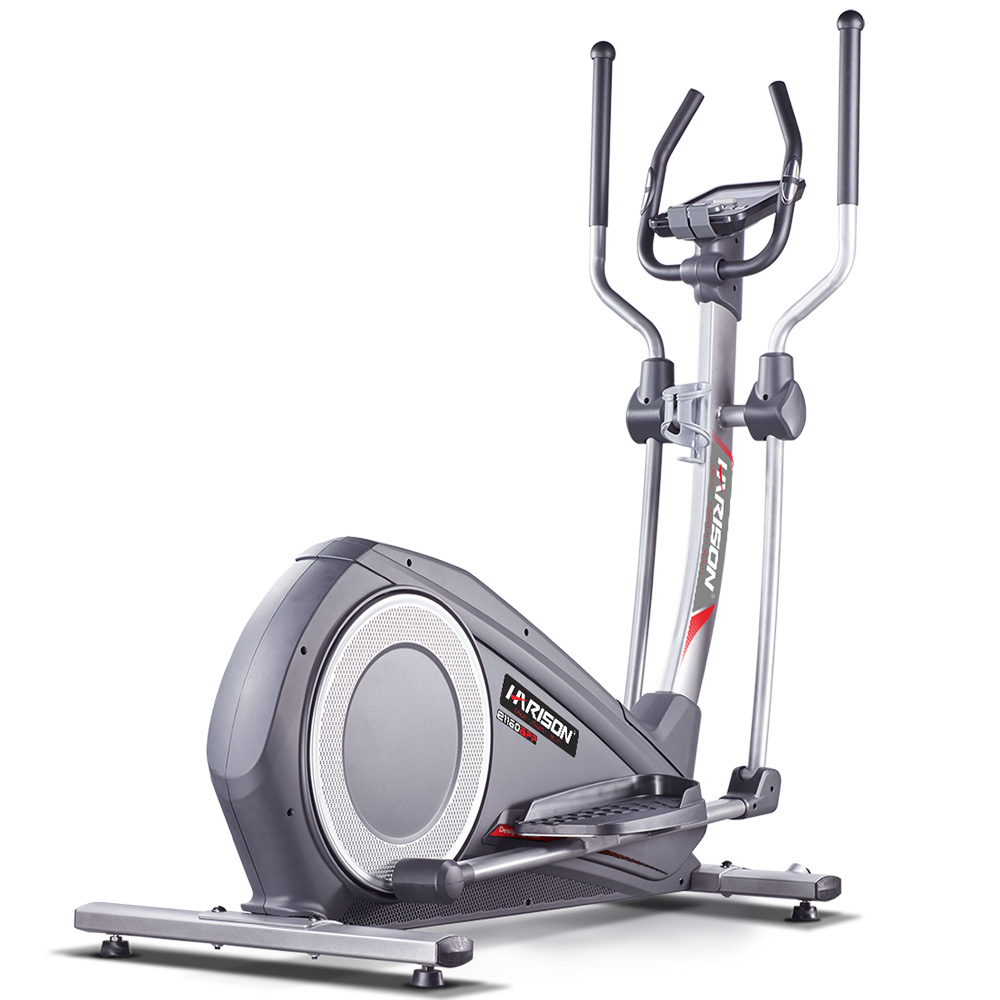 HARISON 1160: Your Best Choice Elliptical Machine for Workout
Although running outside can be quite refreshing as you take in the fresh air and cover longer stretches, it can be quite restricting. The weather is a factor which must be conducive for you to successfully run outside. The impact is also much and if you have an injury is very difficult to achieve your goal.
You don't want to run in a terrible weather. It also requires plenty of time since you have to run a certain distance and back. An Elliptical machine is a good investment as it gives you options to exercise at all times. This helps you build long-term healthy habits. Elliptical bike machines are a great exercise machines to have at home.
They are more cost-effective over a gym membership in the long-term. They have a decreased risk of impact injuries. In addition, they come with an elliptical weight loss plan to help you in losing weight fast. For more reason why you should choose the Elliptical bike machines, click here to know.
The Key Features of HARISON Commercial Grade Eelliptical
HARISON elliptical trainer elliptical machine helps you in cardio training, losing weight, improving heart and lung capacity and enhance leg muscle strength. It has a technology which enable you to count your breathing frequency, heart rate, and energy consumption. Besides helping you build your body, HARISON 1160 improves the coordination ability between your upper and lower limbs.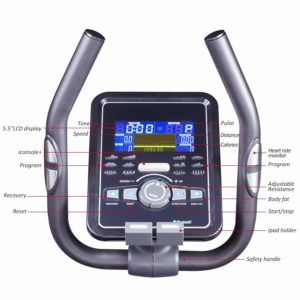 This machine provides many workout intensity options. The 1160 Elliptical bike machine consists of a high speed and inertia drive system which helps you to have an easy start and consistent workouts. You can use elliptical workouts to lose weight fast. This HARISON 1160 has a perimeter weighted flywheel and 32 levels electromagnetic resistance for a true elliptical movement and it helps in tracking and monitoring your progress.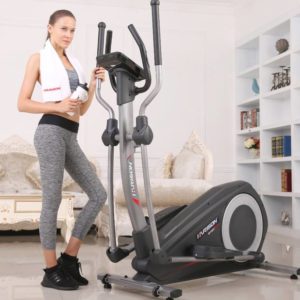 HARISON 1160 has an ergonomic motion design which is of high standard to offer fine-tuning calibration. This reduces knee joint impact points to protect the knee during exercise.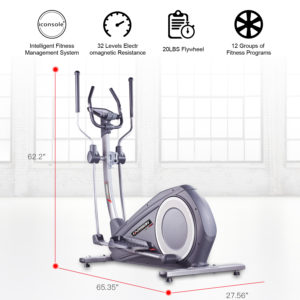 1160 elliptical bike machine comes fitted with a 5.5-inch blue backlit LCD display to help track the important training data. It has a heartbeat recovery, heart rate monitor, body fat testing, and adjustable resistance level.
Other key features include iConsole program which provide elliptical workouts to lose weight fast. HARISON elliptical has an easy start and stop, large foot plates which have cushioning, an iPad holder, bottle holder so that you do not have to leave your workout area.
What You Will Gain from This Elliptical Trainer?
This elliptical bike machine offers a low impact exercise and it is friendly to your knees as it protects them from injury. Elliptical bike machines offer elliptical weight loss plan to help burn more calories in less time. It is a great machine which helps you to exercise both the upper and lower body.
THE 1160 Elliptical machine offers flexibility of using it as an add-on to other workouts for maximum weight loss and body toning. HARISON Elliptical bike machine has a dedicated and quality customer service to help in supporting fitness and wellness every day.
This machine is fitted with the latest fitness technology which offers advanced features to achieve your fitness goals. It has a sleek gym-quality design and style to make it the best choice of a fitness equipment. Designed to benefit the way people work, live and exercise, HARISON Elliptical Machine supports active and healthy living and it is an ideal bike machine for burning belly fat.
HARISON 1160 offers a comfortable posture by having its handlebars and seat easily adjustable both vertically and horizontally. This helps to comfortably accommodate your body shape and you can sit and stand while riding.
It comes with a Multi-functional Digital Monitor to help you set up workout plans. This digital monitor monitors speed, distance, time, calorie, scan, and pulse. Its pro designed saddle which is exquisite helps to reduce the friction between the legs and the seat.
Warranty
The entire HARISON Elliptical bike machine comes with a 1-year warranty, 5-year structural warranty for the cycle bike frame and 10 years warranty on part.
Frequency Asked and Answer Questions on HARISON 1160
The frequently asked questions section is very important to the buyer, especially when buying online. You need to have the right information about the product you are interested in so as to get the best value for your money.
In this section, we have provided several questions on the best fishing nets to help you get an insight from other buyers.
1. What Is an Elliptical Machine?
Popularly known as a cross-trainer, an elliptical machine is an exercise machine which is stationery and which simulates, walking, stair climbing, or running. It exerts little pressure on the joints, therefore, there is decreased risk of injuries as a result of impact.
2. What Does an Elliptical Bike Machine Do?
An Elliptical Bike machine tend to perfectly provide a non-impact, cardiovascular workout with various options of high or light intensity and the user can control the speed and intensity.
3. How Does an Elliptical Machine Work?
This is a user-controlled exercise machine, which works both the upper and lower body of the user. They provide a weight-bearing exercise. The user steps on the medals and begins to run or walk providing a quiet and comfortable workout.
4. Where Can You Buy an Elliptical bike machine?
Elliptical bike machines can be bought from any of the retail store that is near you or from online stores like Amazon which provide a variety of brands.
5. How Much Does HARISON Elliptical Machine Cost?
The price of HARISON Elliptical bike machines is around 760 dollars.
Conclusion
HARISON Elliptical bike machine is one of the best exercise machines you can invest in. It offers a balance body exercise as it helps both upper and lower body work out. Those who wish to lose belly fat can combine it with other workout programs to achieve the desired results.
The 1160 Elliptical bike machine offers the user comfort and convenience by having an iPad holder and bottle holder so they do not have to leave the workout area. This elliptical bike machine offers great features and very competitive prices. It is sturdy and heavy duty and it does not make loud noise while spinning to distract the user.
https://www.harisonfitness.com/wp-content/uploads/2017/09/E1160APP.jpg
1000
1000
Harison team
https://www.harisonfitness.com/wp-content/uploads/2022/08/HARISON-Back-to-Home.png
Harison team
2018-11-29 04:39:31
2022-08-26 09:47:50
HARISON 1160: Your Best Choice Elliptical Machine for Workout