HARISON 408: Multifunction Power Tower Dip Station with Bench
The Harison 408-Power Tower is the ideal fitness power-tower dip-station providing exercise solutions combining all the crucial exercises into one, space-saving equipment. It offers a wide variety of positions and stations that target the improvement of the body's core strength.
It also focuses on the major upper body areas to gain toner arms, defined shoulder, sculpted back and a leaner chest. Its size helps it fit in any room in the house and is also practical enough to transport into a different location. It doesn't matter if you are a bodybuilding expert to a fitness newbie, the Power-Tower can help you achieve your body goals making it the perfect gym machines for home.
View the power tower exercise equipment on Amazon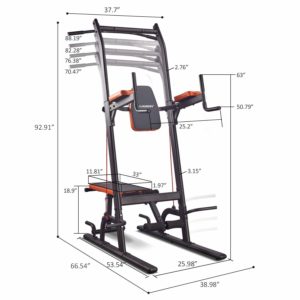 Dimensions
Height: 92.91"
Width: 38"
Length: 53.54"
Product Weight: 46kg
Capacity: Up to 500LBS high capacity
Responsible for any damage,
1 year for the whole power tower, Lifetime parts.
Features
Thick, Heavy-Duty Box Style Cushions
Enjoy comfortable exercise with padded grips and handles offering protection to your hands. The padding has been manufactured using strong materials to make the cushions last longer for more use.
Multifunction Pull-Up Bar
This station is able to cater to a wide variety of strength training such as, but not limited to: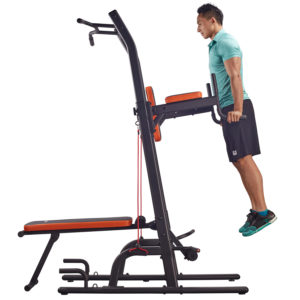 – Dumbbell exercises
– Leg Raises
– Dips
– Pull-Ups
– Chin-Ups (including Hammer and Progressive)
– Vertical Knee Raise
– Push-Ups (including incline)
– Dip Stands
You can train most of your upper body with the Power Tower.
Power-Tower with Bench & Removable Backrest
Enable flexible exercise with removable weight-bench and backrest. You are able to adjust the tower as desired to provide crucial flexibility as you do your strength-training.
Four Adjustable Height
The tower comes with 4 adjustable heights to suit your training needs. You can set heights from 70.47 inches, 76.38 inches, 82.28 inches up to 88.19 inches. This enables you to exercise around the heights that work well with your fitness regime.
Ergonomic Design
The Power Tower's ergonomic design makes the equipment adapt to you. With heavy-duty powder-coated steel framing, it is a sturdy equipment designed to withstand heavy user weights and difficult training methods. The overall design, including the back cushions and elbow pads, makes the tower seamless to use.
Protective Feet
The protective feet create a layer of protection for your floor keeping it in pristine condition. Avoid the worry of damaging your floor by using the Power Tower.
Warranty
Harison Offer Great Warranty Packages:
1 Year warranty for the entire equipment
5 Year warranty for the frame
Lifetime warranty for the parts
What Exercise Can You Do with HARISON 408 Power Tower?
HARISON power tower with bench is a quality and well built fitness equipment at a great price. Impressive. It includes a flexible weight or ab bench that can be removed when not in use. Let's check out how to use this machine and see what muscles does this power tower work?
Built in Push Up Station -Take advantage of the inbuilt push-up station that has molded handgrips that offers added security and comfort. Add some definition to your biceps and forearms with this exercise.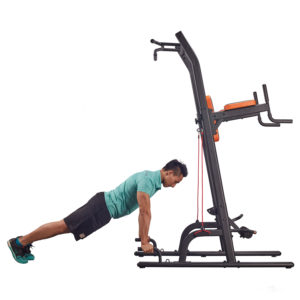 Dip Station – The dip station lets you build up your chest, shoulders, and triceps. All handles have comfortable grips for easy handling.
Pull-Up Station – Develop your core by training your upper body core. With comfortable grips, there are different methods of pull-ups you can do with the Power Tower.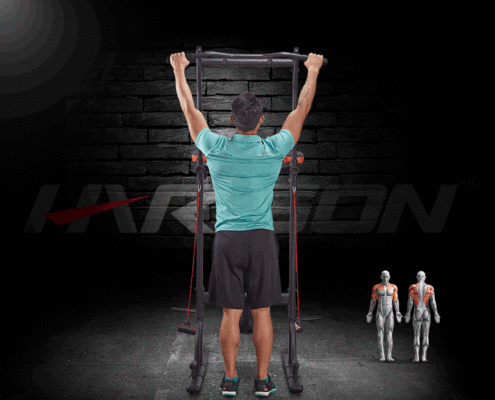 Removable Multi-purpose Bench – The removable bench allows the user to take advantage of horizontal exercises such as sit-ups or weight training. You can remove this bench to make way for other exercise making the Power Tower a varied tool for your exercise.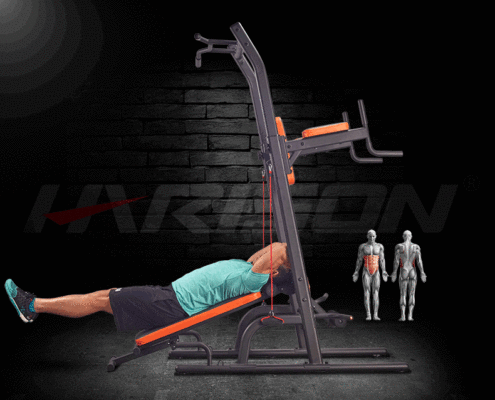 What We Love About The Harison 408 Multifunction Dip Station
Multifunction Capabilities
The Power Tower offers various forms of exercises into one manageable gym equipment. You can forget cluttering your room with weights and pieces of equipment and merge it into one advanced tower to replace it all. Never pay for a gym membership ever again.
Safe and Sturdy to Use
Harison power tower is indeed a solidly built equipment. Heavy duty steel tube frame and the gym-level well designed construction make the machine stable and sturdy when using. Foam rollers for real comfort.
Save Your Room
This compact machine won't take up too much room. Adjustable height from 70.47 – 88.19 inches. The base width: 38" and length: 53.54". You can place it in your room and start your exercise journey without disturbing anyone.
Reasonable Price
The Power Tower is well priced for the type of equipment. Harison offers a competitive price against its leading market competitors. You are not able to find similar products with the same functionality as the Power Tower at this reasonable price.
Exercise in Comfort
The customized padding design makes your experience more comfortable. The Power Tower comes with back cushions, elbow pads, and padded handles with gym-level construction foam rollers.
Easy To Transport
You can move the Power Tower wherever you go. With its easy stowaway system, you can box up and move to your next gym station.
Avoid Damaged Floors
The metal framing has protective materials to avoid any damage to the floor. The material on the base of the tower protects any floor surface and also makes it non-slip to avoid any accidents from happening.
Excellent Warranty
Exercise with a peace of mind. Harison offers a great warranty package that protects your investment from premature wear and tear. The Power Tower is comprehensively covered up to 1 year and it has a lifetime cover for certain areas.
A Name You Can Trust
HARISON is an American brand that prides itself in providing professional and heavy-duty fitness products. The Power Tower is quickly becoming a popular item in its category. If you are searching for a product that provides maximum result comfortably and with high-quality material, then this is the product for you. The Power Tower comes with a training manual to give you ideas on how to effectively use the equipment. It has user-friendly functions to help you make a start on realizing your fitness goals.
Frequently Asked Questions and Answers on the Power Tower
Q: Will there be any guidance on how to effectively use the equipment?
A: Yes. The product will come with tips on how to maximize the use of the equipment. It will have a user manual to instruct users on how to use the Power Tower safely and effectively.
Q: Can I use the Power Tower outdoors?
A: Harison does not recommend the use of the Power Tower outdoors due to the material it consists of. The padding will wear much quicker when it gets wet often and the frame is made with metal that corrodes with constant exposure to water.
Q: What weight does the Power Tower support?
A: The Power Tower is made with heavy-duty materials that can support heavy users. It can support up to 500 lbs.
Q: I am 5 foot 5. Can the Power Tower accommodate me?
A: The Power Tower is fully adjustable to suit your size and needs.
Q: Can the bench flip up vertically to save space?
A: Yes. This is how you do your pull-ups by removing it or flipping it vertically.
For More Details:
How to Assemble HARISON 408 Power Tower?
https://www.harisonfitness.com/wp-content/uploads/2022/01/HARISON-POWER-TOWER-408-3.jpg
1500
1500
Harison team
https://www.harisonfitness.com/wp-content/uploads/2022/08/HARISON-Back-to-Home.png
Harison team
2018-11-27 01:21:31
2022-08-26 09:48:03
HARISON 408: Multifunction Power Tower Dip Station with Bench