HARISON Best Inversion Table HR-407 for Big People
HARISON Best Inversion Table HR-407 for Big People
What is the best inversion table for big people? Here we HARISON list some points, lets check it out.
WHAT IS THE BEST INVERSION TABLE?
---
What is the best inversion table?  An inversion table is a fitness product wherein you practice Inversion Therapy
Simply put, it makes you execute the process of getting therapeutic benefits of hanging by your legs, ankles, or feet from an inverted angle or entirely in an upside down position.
The inversion table is one medium to gain spinal traction wherein you temporarily create space between vertebrae that are customarily smudged together.
THE BENEFITS OF INVERSION
---
People are always 99 percent of the time upright in daily life, in keeping with the earth's gravity pull.
But our internal organs and blood circulatory system suffer because we easily become susceptible to cardiovascular disorders, gastroptosis, and other diseases which are a result of our constant uprightness.
With regards to inversion table benefits, gravity remains the same, but the pressure and tension on our joints, organs and muscles change. The inversion eliminates and weakens inter-articular pressure. The relaxation of our muscles also means that there are positive effects on our control of our pain for our neck and back. We also have better health management if we already have sciatica and arthritis.
INTRODUCING THE HARISON 407 BEST INVERSION TABLE
---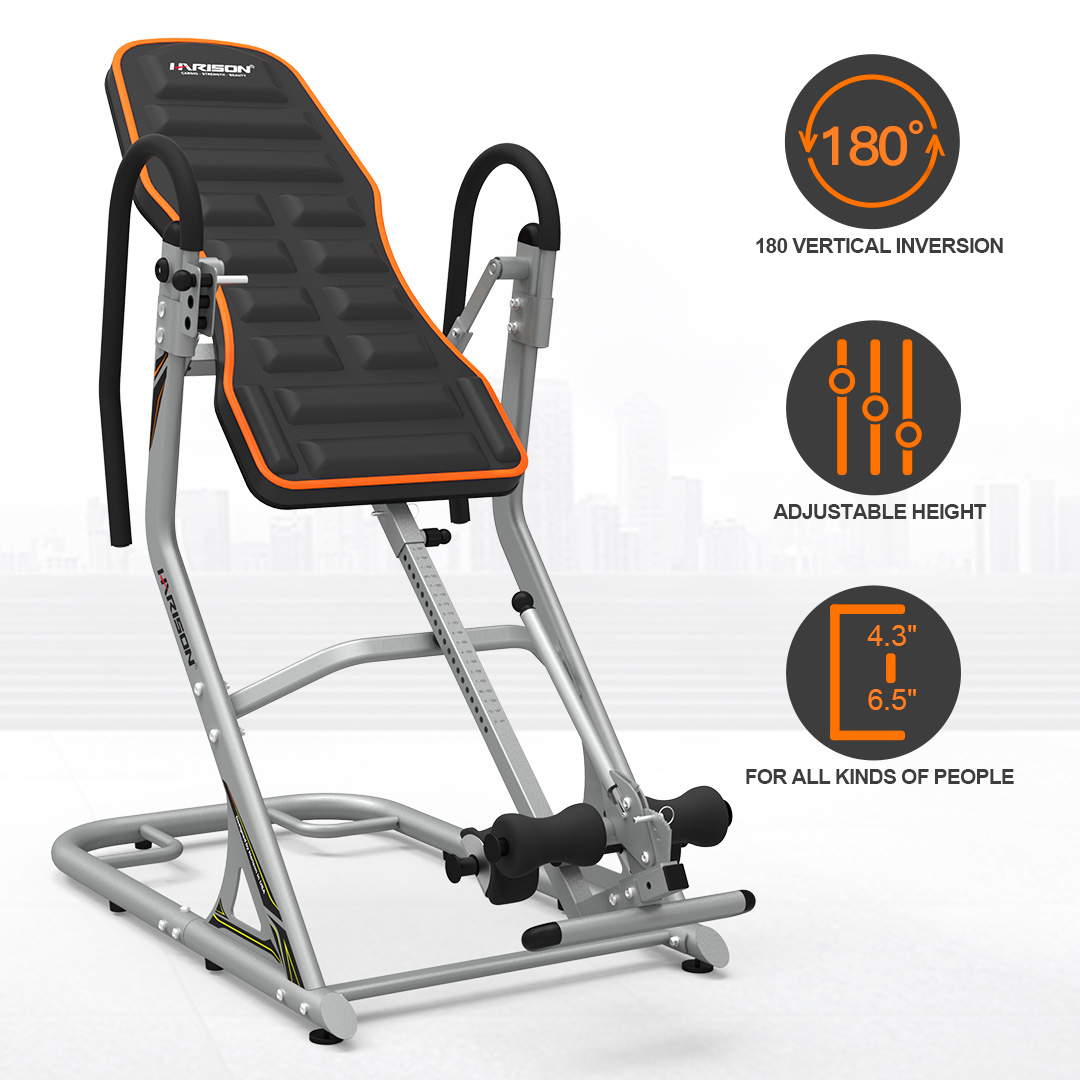 Do you want to avail of the best inversion table in the market? The Harison 407 Inversion Table is now available for you in its updated version.
Harison has a heavy duty integrated steel frame which makes its back inverter stretcher very stable and durable.
A safety belt, protective pedal cover and cap, non-slip nuts, sponge foot cover and safe handles are double security features which make Harison your best candidate for your spine and back health.
SAFETY BELT
You avail the benefit of longer lumbar support because of the safety belt. This is double protection for your own safety.
You can adjust the safety belt according to your own body proportions. This ensures that you will not flop down or slip.
ERGONOMICS
Harison 407 Inversion Table has a unique structure design comprising a triangle frame which has true balance. This makes it super sturdy and stable to fully fit your waist curve, relieve your neck, back and pain pressure.
HARISON HAS THE BEST ANTI-GRAVITY BENEFITS

You can conveniently adjust to 4 different angle position, even a fully 180 degree vertical inversion with the Harison. This amazing inversion table benefits you by exercising your neck and back, the strong possibility of losing weight.

It is also recommended for anti-gravity beauty training because it releases pressure and lets you avoid the need for pharma painkillers and provides you with a good night's sleep.

You can inverse from Flat Sturdy Inversion, Slight Inversion, 60 degree Inversion and finally, Full Vertical Inversion, when you have gotten used to the Harison 407 Inversion Table.
QUALITY ERGONOMICS
Harison has high quality memory foam for the 3D backrest which makes it stand out. The ergonomic design makes it comfortably fit your waist curve to release pressure and protect your spinal and back health.
You will also be provided with a safety belt and ankle holders while you are inverting for maximum safety. You will feel no pinch or pain occurring on your ankles while inverting.
You also avail the benefits of full loop foam-covered handlebars which enable you to easily return to the upright position.
HEAVY-DUTY CAPACITY
The Harison 407 Inversion Table has the capacity to carry the weight of extra-large people up to 350 lbs heavy.
COMPARISON
BEST INVERSION TABLE
---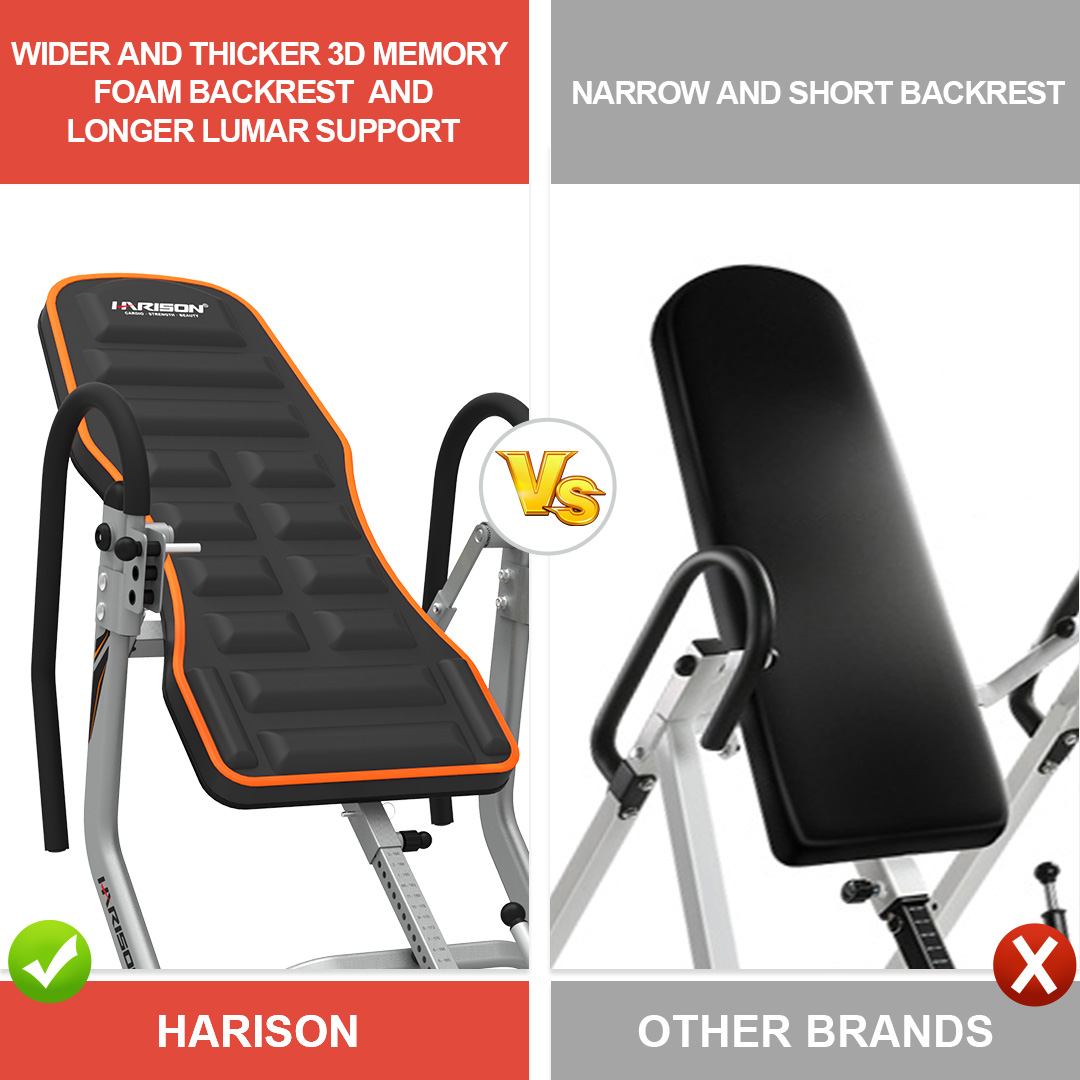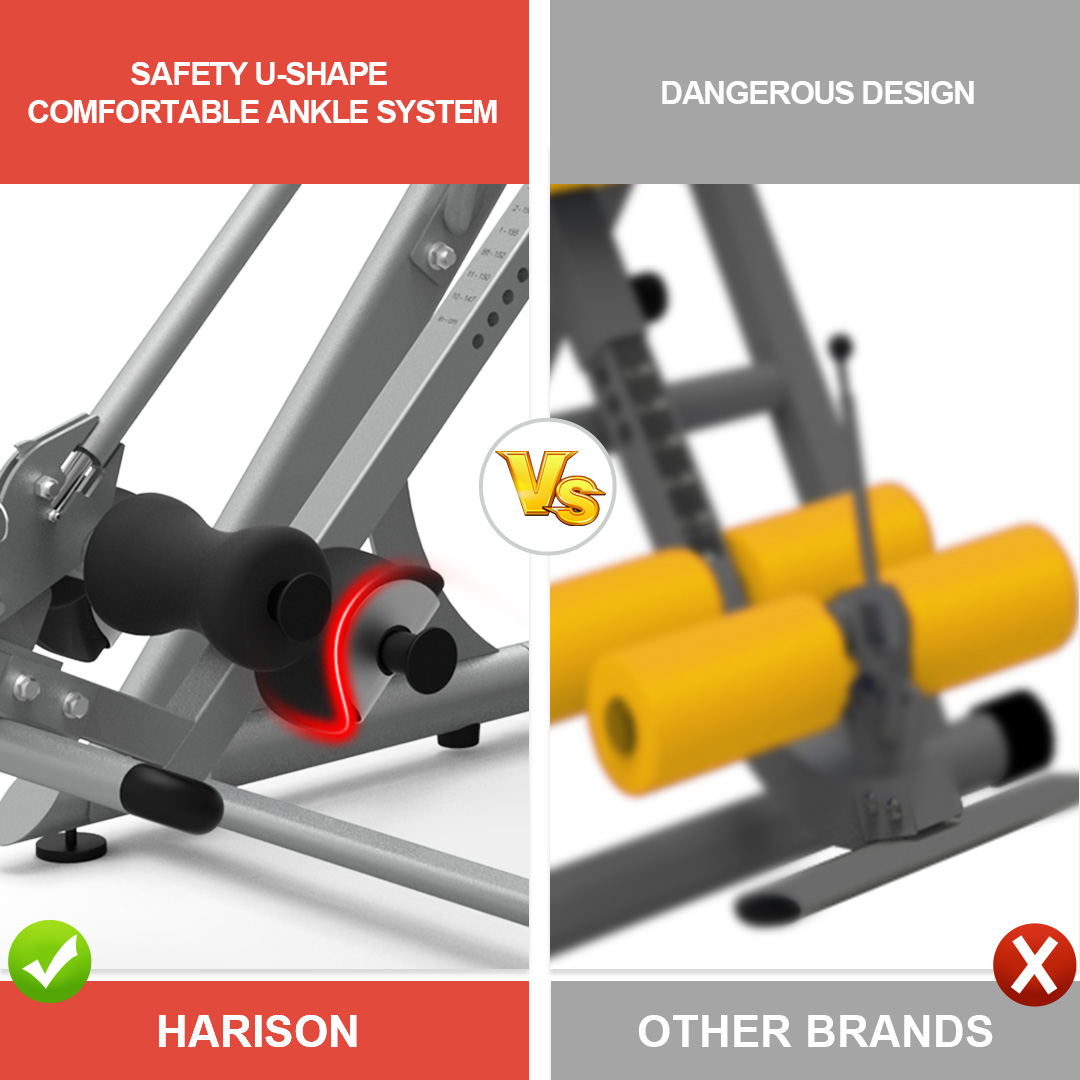 COMPARISON WITH THE TEETER EP-560
The Harison 407 Inversion Table is one of the few products in the market which has a safety belt. Its backrest is very comfortable because of the high-quality foam. Your feet will be reinforced with an adjustable roller with premium quality foam wherein you will not feel any discomfort.
On the other hand, the Teeter EP-560 is not provided with a safety belt but has ergo embrace ankle cups and also an adjustable foot platform to secure your feet and ankle.
The Harison has gears that make it convenient for you to achieve a full 180 degrees and 4 other inversion angles. It also has handlebars which makes it easy for you to control the inversions. It is also easy to assemble.
The Teeter has a manual that instructs on its assembly. Once assembled, you strap your feet on the foot pedal but without the added protection of a safety belt.
COMPARISON WITH IRONMAN GRAVITY
Like the Harison 407, the Ironman Gravity also has a weight capacity of 350 lbs. It has an extra-wide tubular steel frame. On the other hand, the sturdy and unique triangular frame of the Harison 407 has true balance and has much better heavy load performance (compared to a normal triangular design).
It has also extra-long foam-covered handles which give extra grip when you want to return to the upright position. Just like the Harison 407.
But then again, no safety belt. That's what sets apart the Harison 407 in terms of extra protection features.
HARISON HAS 2 DECADES OF EXPERIENCE STANDING BY IT
More than 20 years of inversion table experience assures you that you get what you pay for when you purchase the Harison 407 Inversion Table.
HARISON CUSTOMER FEEDBACK
---
Sourcing: https://relaxtheback.com/blogs/news/inversion-table-benefits
https://www.harisonfitness.com/wp-content/uploads/2022/01/Best-Inversion-Tables-Benefits-Health-Harison-Fitness.png
731
1432
Harison team
https://www.harisonfitness.com/wp-content/uploads/2022/08/HARISON-Back-to-Home.png
Harison team
2022-01-22 02:48:18
2022-01-25 09:39:17
HARISON Best Inversion Table HR-407 for Big People