HARISON Electric Folding Treadmill T360: Commercial grade treadmill for home workout
The convenience brought by treadmills make it a must-have fitness equipment in any gym. When it is raining outside, there's strong wind or you simply don't feel like running in the outdoors, the treadmill provides an efficient and convenient alternative. Each day you are able to get your dose of fitness as planned. Soon you'll be able to reach your ideal weight and stay that way. You'd be surprised to know that renowned athletes have credited the treadmill as a crucial piece of fitness equipment that contributed immensely to their success. Here is a detailed look into this one of a kind fitness machinery, the HARISON Treadmill T360.
What to Consider When Buying A Treadmill
When looking to purchase a treadmill, you don't just go for the one that appeals to your eyes the most. Beyond visual appeal, there's so much more that you need to consider. It includes;
Shock absorption
It is crucial that you opt to purchase a treadmill with provisions for shock absorption. The Harison Treadmill T360 comes with high quality cushioning to facilitate high impact levels. When buying a treadmill you must be confident that you are buying one that can handle it when you train harder and for longer. Note that for a productive workout you should always have good quality, comfortable shoes.
Power
Different treadmills have different motor horsepower. It all depends on how much you plan to use the treadmill and how aggressive you want to be. If you'll have low demand for the treadmill look for one that has at least 1.5 CHP-Continuous duty Horsepower. If you'll have high demand for the machine find one that offers 2.5 CHP to 3.0 CHP. Note that much heavier people require even more power in order to accommodate all their needs.
Available space
Considering that you are buying the treadmill for use at your home gym, first measure the available space where the new treadmill will go. This helps you avoid the inconvenience of buying a treadmill that is too large to fit in the available space. A foldable treadmill is great as it becomes easy to use when needed. After you are done you easily fold it back up.
Warranty
The warranty that comes with each treadmill speaks volumes about the kind of equipment you are buying. Most treadmills come with a ten-year warranty. In isolated cases, some machines come with an additional 2-year warranty for maintenance. Anything less and you are sure you are looking at a treadmill whose quality may not be up to par.
Your budget
It is prudent to buy a treadmill that you can afford. Trying to find that treadmill that is within your budget doesn't necessarily mean that you have to compromise on quality. There are some high-quality machines that will give value well beyond the money it cost you to purchase. Commercial treadmills for sale may cost more than home gym treadmills. This owing to the variations in key features meant to accommodate high traffic.
HARISON Electric Folding Treadmill T360
With its unique qualities and key features, it is clear why the HARISON electric folding treadmill is the go-to for any serious fitness enthusiast.
Product Data
Model Number: HARISON T360
Incline Percent: Auto 0-15%
Speed:1-15km/h
Screen: 7inch LCD Screen
Motor: 2.9HP, Peak power4.0HP
Running Belt Size:18.7"
System: Soft Drop Suspension system
Product weight: 187 Lbs
User Height:4.5′-6.6"
User Weight Capacity: 320 Lbs
Product Dimensions: 70 x 31 x 54 inches
Folded Size: 58 x 31 x 45 inches
Warranty: Shipping from US, 30days risk free trial, 12months for whole treadmill, Lifetime parts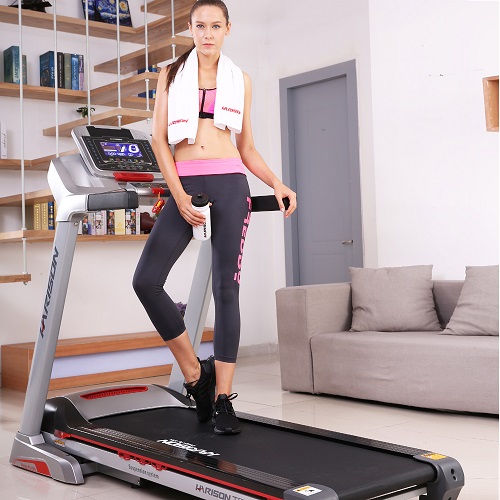 Key Features
. 7 inch LCD screen that's easy to read. Shows, time, no. of calories burnt, distance and more.

. Adequate cushioning for increased comfort and more importantly to help absorb shock when in use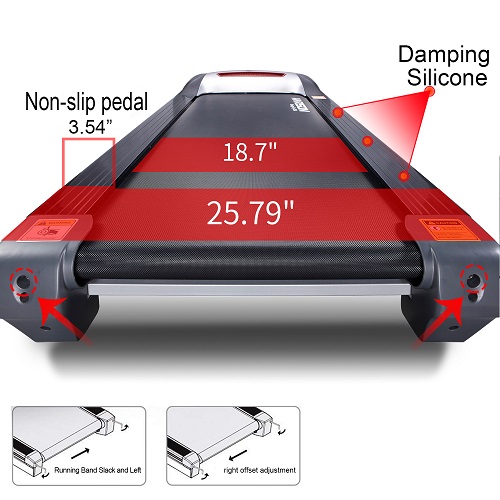 . Folding system that is easy to unfold and easy to fold back again.
. Has wheels at the front to help you move the machine around
. iPad holder and headphone jack
. Pulse heart rate monitor
.  Safety key to avoid unforeseen accidents
. High-quality material for durability
. Convenient and attractive design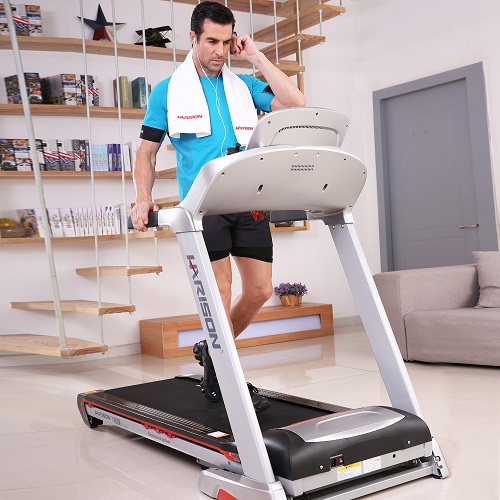 Frequently asked questions about the Harison Treadmill T360
1. How much does a treadmill weigh?
Treadmills come in different shapes and sizes. For his reason, the weight varies from one treadmill to another. The Harison Treadmill T360 weighs 187 lbs.
2. How treadmills help to lose weight
Make it a habit to use the treadmill for at least 30 minutes every day to help you lose weight. On average, running on the treadmill helps burn an average of one to two pounds each week.
3. Do treadmills have a weight limit?
Yes. While some commercial treadmills can accommodate more weight, most treadmills are built to accommodate average amount of weight. The Harison Treadmill T360 can accommodate any user whose weight is 300 lbs. and lower.
4. Are treadmills bad for your knees?
It is advisable that you always set the treadmill speed at the rate you find comfortable. Many tend to increase the treadmill speed in a bid to quickly meet their weight loss goals. However, this may end up leading to injury. Higher speeds often mean more pressure on your knees and joints. This hence leads to one developing knee problems.
https://www.harisonfitness.com/wp-content/uploads/2021/09/t360track-8.jpg
1000
1000
Harison team
https://www.harisonfitness.com/wp-content/uploads/2022/08/HARISON-Back-to-Home.png
Harison team
2018-11-23 01:52:40
2022-08-26 09:48:52
HARISON Electric Folding Treadmill T360: Commercial grade treadmill for home workout