In HARISON blog section, you will get the content about Product Reviews,  Fitness Tips and more. We focus on showing you the advantages and disadvantages of products, and guide you to choose the right one. Will also provide fitness information to help you keep fit. Now check the list on the right to get the article you need. If you have any suggestions for our products, just send them to the Email: harisonfitness@gmail.com, your advice is very important, we will kindly check and take it.
Compact elliptical trainers and folding elliptical trainers are ideal for cardio and strength training at home. Compared to traditional home ellipticals they take up less floor space and are easier to move. Yet despite their smaller stature, the best compact and folding elliptical trainers don't compromise at all on biomechanics. They support full strides and offer perfect resistance for each trainee.
Center drive elliptical machines have the smallest dimensions and are non-folding. Front and rear drive ellipticals have longer frames, but may be foldable for storage to compensate. Examples of center, front, and rear drive ellipticals are found below.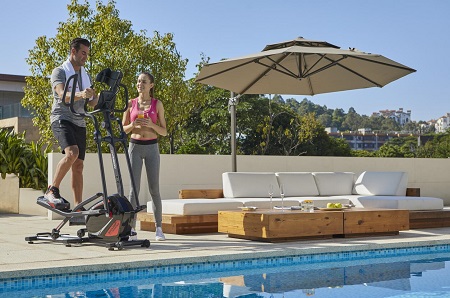 How to Choose A Compact Elliptical Machine?
What can you expect from a compact or folding elliptical trainer? The best options will feature all the functions your used to from traditional crosstrainers. However, sometimes a folding elliptical costs a few hundred dollars more than a non-folding alternative with similar specs. Here are shopping tips to avoid confusion.
Performance
Every performance level is available with compact ellipticals if you know what you're looking for. Compact non-folding ellipticals are sold in every price class, allowing option for the budget conscious t all the way up to commercial health club quality. Folding ellipticals obviously aren't built for commercial us, but do still offer a wide range of performance quality. Here are some important factors to consider…
Resistance: The best elliptical machines provide enough resistance to support smooth motion. That's important because the smoother the exercise, the longer a person can exercise before tiring. Smooth resistance also helps minimize the risk injury. For most elliptical brands, the flywheel weight is an excellent clue to determine this aspect of performance and it tells you the top skill level that's supported. Beginners may be satisfied with a flywheel weight of just 18 pounds. Intermediate and advanced trainees will want more heft. Individuals who weigh more will also need relatively more resistance to gain a comfortable momentum.
Stride: Narrow foot spacing is part of a healthy natural stride. You can identify this when slowly walking across a room. When your feet move past each other, they should be separated by no more than 2 inches. Thus the best compact elliptical trainers have virtually no gaps between their pedals. Another aspect of healthy stride is length. The best ellipticals for adults of average heights have about 20" long footpaths. People with shorter inseams might prefer ellipticals with 18" strides, but should probably avoid anything smaller. Some of the best ellipticals have adjustable strides such as 18-inches to 22-inches to fit a variety users (or at least more dramatic ranges to also serve as stairclimbers and treadmills).
Incline: Adjustable stride is useful for enhanced calorie burn and targeted muscle toning, but an incline can also help meet these needs. Many ellipticals and hybrid trainers have power inclines. A maximum tilt of about 20 percent is typical, but specialty trainers have even steeper slopes. There are even workout programs can pair the incline training with scenic interactive video for a more immersive exercise experiences.
Durability
The best compact ellipticals are long-lasting and rarely need maintenance. Here are some features to consider when assessing durability.
Drive Design: The only potential drawback of a rear drive elliptical is the floor space required, but choosing a folding model could be an easy fix for those with a space problem.
Maximum User Weight: A good compact elliptical trainer can safely hold at least 300 pounds. Some of the best ellipticals on the market (compact or not) have 400-pound maximum user weights. The higher the maximum user weight, the more durable the product.
Warranty: The parts warranties on compact and folding ellipticals vary greatly. Moderately priced machines generally have parts warranties of two to five years. Lifetime coverage is typically included for the frame, and labor costs are free during the first year or two.
Features
The best compact home ellipticals have the same features as larger machines, just with a less bulky frame or the option of foldability. Here are some features to look out for.
Folding: Adjusting a folding elliptical is easy. Hydraulics or electronics do most of the work, so little physical strength is required. It typically folds into half the size, saving significant space in the process.
Interactive Workouts: Some of the best compact ellipticals support interactive workouts as well as classic workouts. Interactive workouts use technologies such as Google Maps with Street View to take you around the world without ever leaving your elliptical. Some workouts offer ambient sound as well as visuals to deepen the immersion.
App Integration: These days, the top elliptical trainers include built in apps or wifi that can sync with a variety of mobile apps for fitness and entertainment. Examples of apps that work with select elliptical trainers are My Fitness Pal, Hulu and training apps provided by elliptical manufacturers.
http://www.harisonfitness.com/wp-content/uploads/2017/09/HARISONLOGO72.jpg
0
0
Olivia
http://www.harisonfitness.com/wp-content/uploads/2017/09/HARISONLOGO72.jpg
Olivia
2019-05-31 03:06:35
2019-06-14 22:16:30
Best Compact Elliptical Machine for Fitness
Below we take a peek at some of the best mini exercise bikes on the market so you can make your purchase and peddle away to your heart's content!
1. DeskCycle Desk Exercise Bike
This mini bike is the lowest pedal height available for purchase at only 10 inches tall. This is great for people who want to use the bike under a work desk, especially with desks that are lower in height. This bike has 8 different resistance options – much more than most other bikes on the market.
To make the resistance smooth and quiet, this mini bike uses magnetic resistance so you don't have to worry about it being loud and distracting. This is of particular importance in an office environment because you don't want your co-workers upset or annoyed by a loud mini bike.
Just as the option above, this bike has a 5-function display that shows speed, distance, calories burned, and scan feature. This ensures that you can see your progress throughout the day and keep track of your fitness level.
2.Sunny Health & Fitness SF-B0418
This is another bike that features a magnetic system that is smooth and quiet. It has 8 different resistance levels to accommodate an easy ride or a workout that's a bit tougher and will burn more calories. Its display system shows time, speed, distance, calories burned, and ODM. The bike has safety pedal straps that ensure that your feet never slip off causing you injuries.
The pedals can be used with both your arms and legs allowing for more flexibility in terms of variety of exercises and overall usage. It can bear a maximum weight of up to 220 pounds per person so no matter how big you are you can still use this bike to get back in shape. Sunny's exercise bike is compact and lightweight enabling you to take it to and from the office, on vacations, or to different rooms in your house.
3. Drive Medical Deluxe Folding Exercise Peddler
This mini exercise bike has an electronic display, which is great to keep track of your progress when you are using the bike. It is easy to look down and see how long you have been riding, your revolution count, your revolutions per minute, and how many calories you have burned. The scan features further allow you to keep a detailed record of your progress.
This bike is also foldable for easy storage and easy to move around, travel with, and take with you wherever you want. It's extremely lightweight body weighing about 7 pounds and compact dimensions measuring at 12.5 x 14.7 x 6.5 inches further accentuates its portability. This bike can be used for arm and leg exercises that increase mobility, stamina, and muscle strength while also improving blood circulation and lung capacity.
The feet of the machine features four anti-slip rubber pads at each end so that the structure can stay securely in place even during heavy exercise. Additionally, you can adjust the resistance of the bike as well. For a better leg workout, just screw the knob tighter for more resistance. This bike is great for increasing our mobility and improving circulation.
http://www.harisonfitness.com/wp-content/uploads/2017/09/HARISONLOGO72.jpg
0
0
Olivia
http://www.harisonfitness.com/wp-content/uploads/2017/09/HARISONLOGO72.jpg
Olivia
2019-05-31 02:55:30
2019-06-13 05:39:55
Best Mini Exercise Bike for Weight Loss
Working out on a machine is one of the most effective ways of reaching your fitness goals. Many people are now opting to buy and use them as they work out because they are gentle to the joints and at the same time very effective.
However, when purchasing them most people get overwhelmed, especially when it comes to stationary bikes and elliptical machines.
Below we have written a review of the advantages of exercise bikes vs elliptical machines to help you choose the right machine for your needs.
1. Exercise bike vs Elliptical for weight loss
Both elliptical machines and exercise bikes are very effective for cardio workouts. This means that they improve your fitness and energy levels giving you overall body strength. You can also lose or keep your weight in check if you use either of the devices.
However, an elliptical machine is more effective when it comes to weight loss. Depending on the intensity you put into your work out, you can lose between 400 to 750 calories in just an hour of working out on an exercise bike.
This is slightly higher when you use an elliptical machine. You burn between 455 to 830 calories for every hour you work out on an elliptical machine.
Even though a bike is good for weight loss, it doesn't burn calories faster like an elliptical machine. An exercise bike also focuses more on the lower body while an elliptical machine is a full body work out machine. Therefore an elliptical machine is an effective machine to use if you want to lose weight.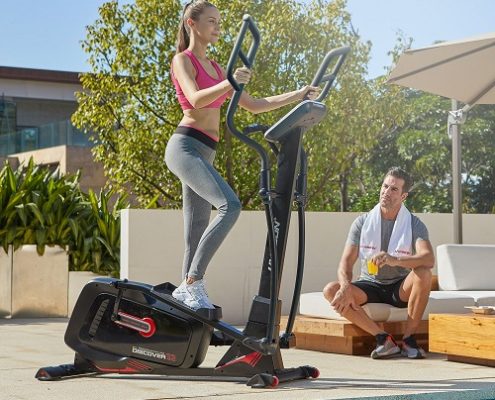 2. Stationary bike vs elliptical machines for knees
Both of these machines are very gentle to the joints. Alder people and those with weak joints are encouraged to use these machines when they work out. Their movements are soft and have a low impact on the joints. You can also control their resistance and set the machines to conditions that are good with you.
Between the two, exercise bikes are more gentle to the knees compared to an elliptical machine. Because you are seated while working out, the body weight does not exert pressure on the knees. Exercise bikes have been used for a long time by arthritis patients to strengthen their joints without putting them under pressure.
Raising the stationary bike seat can also reduce pressure on the knees. Exercise bike movements are also gentle and smooth. The resistance can also be smoothened to make the movements less excruciating on the knees.
You have to stand while working on an elliptical machine. This exerts a lot of pressure on the knees. As much as the elliptical machine may be a low impact work out machine, a lot of pressure is still exerted on the knees. Someone with weak knees may come off an elliptical machine feeling pain in their knees.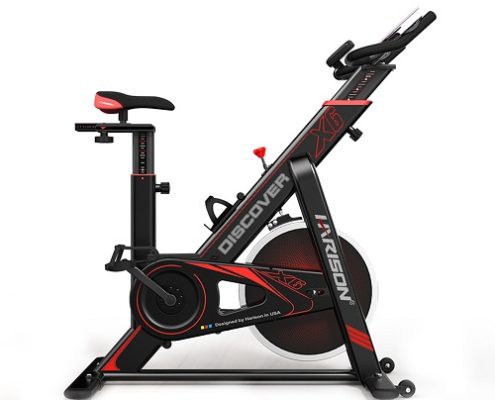 3. Elliptical vs Stationary bike for toning muscles
Everyone has their own goals when they workout. One common goal people set is having well-defined muscles. Not only does it improve how you look but also your muscle strength. Giving you the strength to go on with your daily chores with vigor.
Even though both of these machines are not meant for strength training, they are known to tone muscles. They convert the excess body fat into muscles fast.
While working out on an elliptical machine, both the upper and the lower body are in constant action. This helps in toning both the upper and lower body muscles. An elliptical machine tones up the back, core muscles, shoulders, biceps, hamstring, calf thigh muscles.
Even though exercise bikes are also effective they mostly work up the lower body. Exercise bikes do help in toning up thighs and also calve muscles mostly. Apart from that, they also do tone up some upper body muscle like the shoulders and core muscles but not as much as the elliptical machine.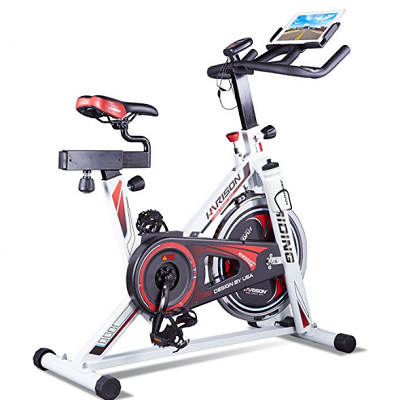 In conclusion
The elliptical and exercise bikes are both great workout machines. They both do not occupy a lot of space and can be used by people of all ages.
However, when choosing which machine is right for you, your end goals should always be considered. Knowing what you want will help you choose the best machine for you.
http://www.harisonfitness.com/wp-content/uploads/2017/09/HARISONLOGO72.jpg
0
0
Olivia
http://www.harisonfitness.com/wp-content/uploads/2017/09/HARISONLOGO72.jpg
Olivia
2019-05-30 04:38:41
2019-06-14 22:03:24
Exercise Bike vs Elliptical: Which one should you choose for workouts?