In HARISON blog section, you will get the content about Product Reviews,  Fitness Tips and more. We focus on showing you the advantages and disadvantages of products, and guide you to choose the right one. Will also provide fitness information to help you keep fit. Now check the list on the right to get the article you need. If you have any suggestions for our products, just send them to the Email: harisonfitness@gmail.com, your advice is very important, we will kindly check and take it.
Working out on a machine is one of the most effective ways of reaching your fitness goals. Many people are now opting to buy and use them as they work out because they are gentle to the joints and at the same time very effective.
However, when purchasing them most people get overwhelmed, especially when it comes to stationary bikes and elliptical machines.
Below we have written a review of the advantages of exercise bikes vs elliptical machines to help you choose the right machine for your needs.
1. Exercise bike vs Elliptical for weight loss
Both elliptical machines and exercise bikes are very effective for cardio workouts. This means that they improve your fitness and energy levels giving you overall body strength. You can also lose or keep your weight in check if you use either of the devices.
However, an elliptical machine is more effective when it comes to weight loss. Depending on the intensity you put into your work out, you can lose between 400 to 750 calories in just an hour of working out on an exercise bike.
This is slightly higher when you use an elliptical machine. You burn between 455 to 830 calories for every hour you work out on an elliptical machine.
Even though a bike is good for weight loss, it doesn't burn calories faster like an elliptical machine. An exercise bike also focuses more on the lower body while an elliptical machine is a full body work out machine. Therefore an elliptical machine is an effective machine to use if you want to lose weight.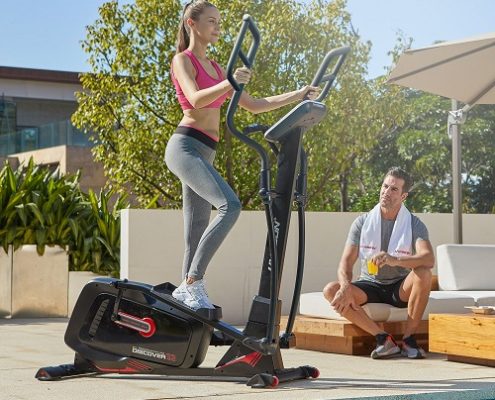 2. Stationary bike vs elliptical machines for knees
Both of these machines are very gentle to the joints. Alder people and those with weak joints are encouraged to use these machines when they work out. Their movements are soft and have a low impact on the joints. You can also control their resistance and set the machines to conditions that are good with you.
Between the two, exercise bikes are more gentle to the knees compared to an elliptical machine. Because you are seated while working out, the body weight does not exert pressure on the knees. Exercise bikes have been used for a long time by arthritis patients to strengthen their joints without putting them under pressure.
Raising the stationary bike seat can also reduce pressure on the knees. Exercise bike movements are also gentle and smooth. The resistance can also be smoothened to make the movements less excruciating on the knees.
You have to stand while working on an elliptical machine. This exerts a lot of pressure on the knees. As much as the elliptical machine may be a low impact work out machine, a lot of pressure is still exerted on the knees. Someone with weak knees may come off an elliptical machine feeling pain in their knees.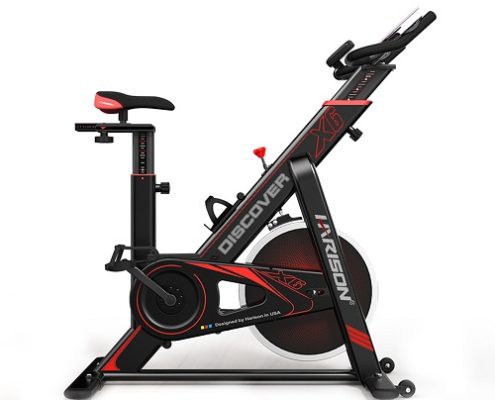 3. Elliptical vs Stationary bike for toning muscles
Everyone has their own goals when they workout. One common goal people set is having well-defined muscles. Not only does it improve how you look but also your muscle strength. Giving you the strength to go on with your daily chores with vigor.
Even though both of these machines are not meant for strength training, they are known to tone muscles. They convert the excess body fat into muscles fast.
While working out on an elliptical machine, both the upper and the lower body are in constant action. This helps in toning both the upper and lower body muscles. An elliptical machine tones up the back, core muscles, shoulders, biceps, hamstring, calf thigh muscles.
Even though exercise bikes are also effective they mostly work up the lower body. Exercise bikes do help in toning up thighs and also calve muscles mostly. Apart from that, they also do tone up some upper body muscle like the shoulders and core muscles but not as much as the elliptical machine.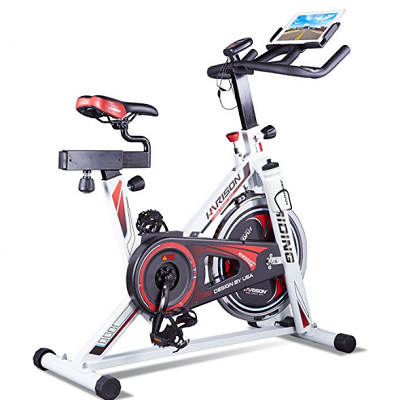 In conclusion
The elliptical and exercise bikes are both great workout machines. They both do not occupy a lot of space and can be used by people of all ages.
However, when choosing which machine is right for you, your end goals should always be considered. Knowing what you want will help you choose the best machine for you.
http://www.harisonfitness.com/wp-content/uploads/2017/09/HARISONLOGO72.jpg
0
0
Olivia
http://www.harisonfitness.com/wp-content/uploads/2017/09/HARISONLOGO72.jpg
Olivia
2019-05-30 04:38:41
2019-06-14 22:03:24
Exercise Bike vs Elliptical: Which one should you choose for workouts?
Investing in home fitness equipment is one of the most convenient ways to ensure that you stay fit. This is because you're able to save time and money by working out in your home. However, choosing the right work out equipment for your new home gym can be tough. Most people, even those experienced in the gym, make mistakes when buying fitness equipment, and they end up impacting your workout negatively. To ensure that you acquire the right home fitness equipment, avoid these three major mistakes.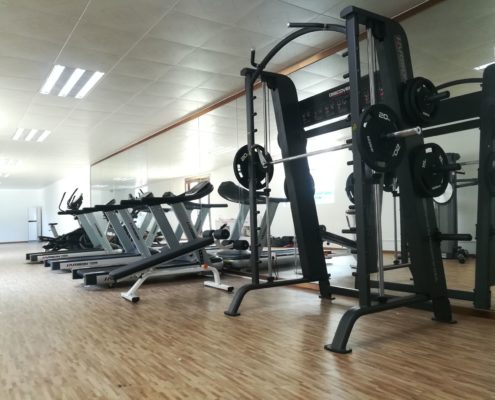 1)Paying Attention to Special Features Only
In the current market, most consumers pay attention to the extra features fitness equipment comes with instead of the main features. Most manufacturers add these features, including inbuilt speakers, large digital displays, and other fitness tracking systems to entice you into buying poorly constructed equipment.
Although some of these features are important, they play a minor or no role during your workout. Instead, focus on the equipment construction and how well it runs. If the equipment is well built and works well, you can then shift your focus to extra features.
Note that poorly constructed equipment is not only a waste of your money but also a safety hazard.
2)Buying Your Fitness Equipment Online
Online shopping is convenient and has the most favorable prices. However, most sellers post edited images and exaggerated reviews to make a sale. These images and reviews are meant to influence you to buy the equipment, thinking it's the best one in the entire market. Other manufacturers offer free mats, water bottles, fitness books, and other freebies with each purchase. Do not fall for these traps as there's a high chance you'll end up with inferior equipment.
Before purchasing any equipment, read through independent reviews, customer reviews, and consult a fitness instructor. These will provide you with all the information you require, to decide whether or not the fitness equipment fits your needs.
3)Ignoring the Test Drive
When you've decided on the equipment you want to purchase, do not assume all its internal mechanics are working well without running a test drive. Try out the equipment to make sure that it's well configured and it does all it's required to without any complications. A test drive gives you insights on the workings of the machine and lets you know if it fits your needs.
A test drive also helps you assess your comfort when using the equipment. It might be working correctly, but you're not comfortable when using it. This is particularly important for short people, tall people, and people with special needs.
Run a test drive to avoid getting stuck with a machine that you can't use.
Conclusion
Your dedication to health and fitness may drive you to purchase home fitness equipment. To ensure that you make a worthy investment, take your time to decide on the right equipment for your workout. Each machine has different configurations and, therefore, you should pay attention to the slightest detail that determines the overall performance of the machine. By avoiding the mistakes mentioned above, you acquire the right equipment and save time and money.
http://www.harisonfitness.com/wp-content/uploads/2017/09/HARISONLOGO72.jpg
0
0
Olivia
http://www.harisonfitness.com/wp-content/uploads/2017/09/HARISONLOGO72.jpg
Olivia
2019-05-30 03:43:10
2019-05-30 03:43:10
3 Mistakes to Advoid When Choosing Your Home Fitness Equipment
Workouts aren't supposed to be easy. If they are, you're probably not pushing yourself hard enough. That being said, your workouts shouldn't be so grueling that they leave you in pain or dreading your next session.
Here are some tips for you to make exercise easier.
1.Add Music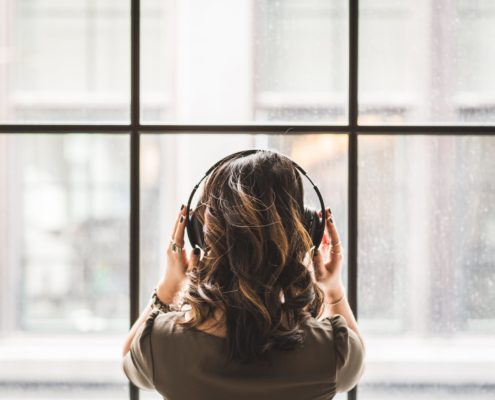 2.Join a Group Class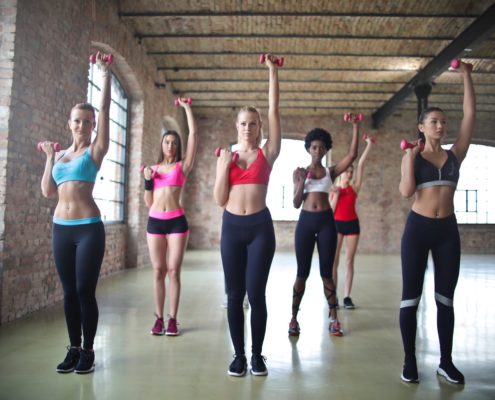 3.Look in the Mirror When Exercising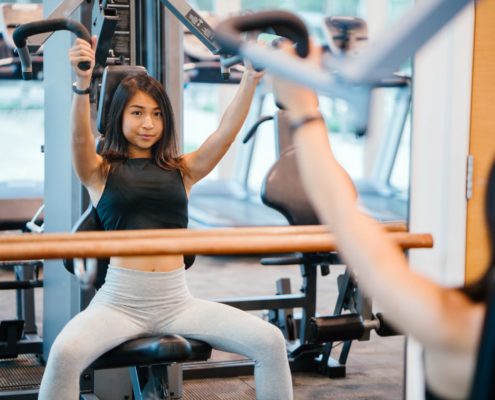 4.Drink Ice-Cold Water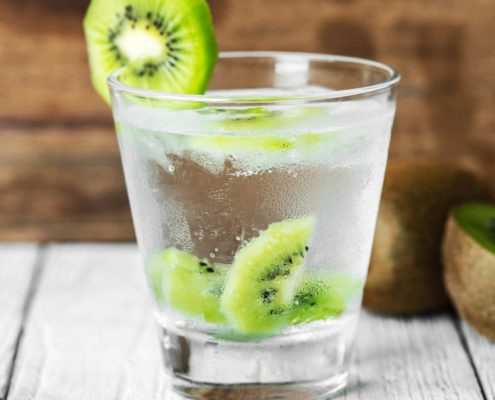 5.Exercise When It Feels Right to You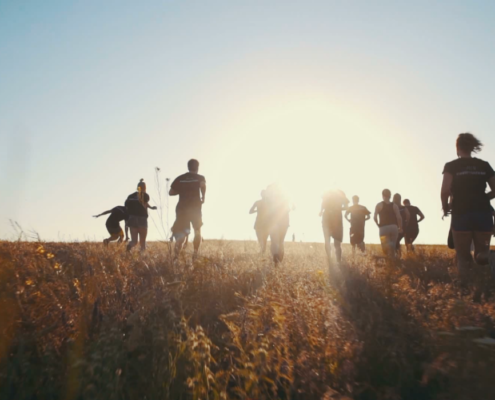 http://www.harisonfitness.com/wp-content/uploads/2017/09/HARISONLOGO72.jpg
0
0
Olivia
http://www.harisonfitness.com/wp-content/uploads/2017/09/HARISONLOGO72.jpg
Olivia
2019-04-30 03:56:02
2019-05-10 05:15:18
5 Ways to Make Your Workout Easier