Tips for Choosing the Right Mini Stair Stepper Machine
Why the stair stepper machine is so popular today? The mini stepper will give you a great workout without taking up a lot of space in your home. And it can be moved easily to anywhere you want.
This machine is fit for most of the people, almost everyone can use it to exercise. If you want a lower intensity workout machine than treadmill or spinning bike, then stair stepper is your best choice.
What's more, stair stepper equipment is extremely versatile. You can use it when watching TV with family members or you can still burn calories while sitting at a desk at work.
We have known the benefits of the stair stepper machine, the only question is how to choose the best climbing machine, and which one is suitable for you. Let's follow the guide below.
What factors we should take when choosing a mini stair stepper
If you are looking for a stair stepper machine, don't buy the first one you find. There are a few things to consider before buying one.
1.Resistance
Buy a mini stair stepper machine with various resistance levels. You will grow fitter and stronger in a month or so and need to slowly increase the workout intensity for more progress. This is impossible without a tension knob.
2.Maximum weight
Check the stair climber exercise machine's maximum weight limit because it will not last if you are too heavy for it. Extra options like attached resistance bands give an improved workout by working both your upper and lower body.
4.Safety
The stair climber exercise machine has to be undoubtedly strong and rigid enough to keep you safe while working out. Check the machine stair surface as you may slip on some of them while climbing up and down. This is risky for your ankles. If you can't physically test them out, read past users' online reviews, while looking out for information about the mini stepper's strength and rigidity.
You also have to look for durability in the machine because not all of them are designed to last long. The warranty length will give you a good idea of its durability. Manufacturers offering short or no warranties mean that they are not sure of their product. There's no point of your investing in it.
Best Reviews of Mini Stair Stepper Machines
Sunny Health & Fitness Twister Stepper
The Sunny Fitness Twister Stepper has resistance bands that help you burn more calories. It stimulates dumbbells actions and simultaneously works both your upper and lower body. It has individual hydraulic arms which operate smoothly and quietly to create the actual stepping mechanism. The stepper has an additional twisting motion that enhances your workout by targeting your waist sides.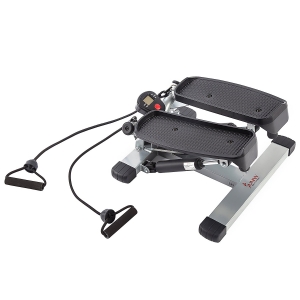 Pro's
Heavy duty steel construction
LCD computer
Skid-resistant foot pads
Band resistance
Twist function
Con's
No adjustable resistance
The unit may squeak while in use
Xiser Commercial Portable Stepper
The Xiser commercial Stepper is a unique mini stepper, meant for those looking for a serious workout as it was designed for sprint interval training. It is the resistance it offers which makes it ideal for high-intensity interval training workouts.
This portable stepper is built very strong and durable. It's made of silver-colored aluminum alloy, which looks good, and is thoroughly covered with cast molding. This ensures there are no welding or weak points on the stepper. There is a resistance knob for a smooth transition between its three training resistance levels.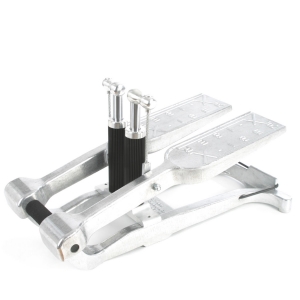 Pro's
Aluminum alloy construction
Range of resistance levels
Suitable for advanced training
Very stable and durable
Allows for HIIT training
Con's
Expensive
No provision for upper body training
HARISON Stand Up Mini Stair Stepper Machine
The Harison Stand up Stair Stepper Machine makes the perfect addition to any home gym. It is a portable stepper with an LCD computer that's uniquely designed for exercising while standing up. While standing isn't as effective as walking or pedaling, it reduces the risks of heart disease and reduces cholesterol and blood sugar levels by increasing blood flow and circulation.
It is durably built from heavy-duty steel to bear the strain of everyday intense workouts. It can be moved up and down to help tone thighs and buttocks while it's extra large slip-resistant footplates is perfect for all foot sizes.
It has a height –adjustment knob and rollerblade wheels that provide for a smoother ride. It also has a console with an easy-to-read display which keeps all important data in view while working out.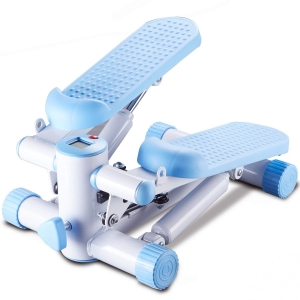 Pro's
adjustable resistance
Heavy-duty steel construction
LCD computer
Perfect for feet of all sizes
smoother, quieter ride
Easy to assemble
Con's
Not enough range of resistance for the ones who need intensity exercise
How Is the Stair Stepper Machine for Weight Loss?
The stepper machine is the low-impact workout machine. Which means that it won't help you to lose weight or reach other fitness goal in short time. However, long-term dedication to this simple exercise can help you burn calories at a moderate rate. And this machine is very convenient and useful when you are doing other things like watching TV or writting Email.
Let's see how many calories the stepper machine will help to burn during the special time.
About Stair Stepper Burn Calories
Acutally, your body weight will affect the calories that will be burned by using the stepper machine. Harvard Medical School notes that a 155-pound person will burn 223 calories during a 30-minute workout with the machine, while a 185-pound person will burn 266 calories in the same time. This rate of burning calories is moderate; a person of the same weight will burn 391 calories during a 30-minute vigorous-intensity stationary bike workout. Normally, the Stair climber machines are often equipped with a screen that displays workout data, including the calories you've burned during your workout.
What Muscles Does A Stair Stepper Workout?
The muscle that the mini stair stepper will work during exercising including quads, glutes, hamstrings, calves and hip flexors. So while the calorie burn may be a bit less than with some other cardio machines, the muscle work will save you time at the gym and may allow you to stay on longer, thus burning more calories than with other equipment.
FAQ of Mini Stair Stepper
Q.1: I have a Fit Bit and want to know if it will count steps while using this?
A.Yes, it will count your steps, as long as you swing your arms like while walking. While all FitBits may not work like this, some won't pick up anything if you don't swing arms.
Q.2: Is this safe for someone with bad knees? I'm looking for an alternative as my knees hurt while exercising on normal bikes and elliptical.
A.It should help with knee problems if used carefully. Pull your knee up and get on your toes while lifting your leg and make sure your heel stays down while stepping down.
Q.3: I am a fitness freak, and need something small for my home. I was wondering if this small thing actually gives a decent workout.
A.Yes. I had actually undergone a back surgery and this was just perfect to get back to exercising. It is very strong and conveniently slips under the bed when not in use. It even burns calories, and I burn about 300+calories in 45 minutes. Your heart rate level even increases if you use the upper body bands.
I usually jog for 2 miles without sweating. But when I got this for my stand-up desk, I noticed a bead of sweat on my arm in just half an hour! I even noticed that whenever I sat down after my workout, my legs felt rather weak while standing up. So it shows that the changed exercise pattern helps!
How many calories does a mini stair stepper machine burn?
The Health Status Calorie calculator shows that an average person weighing 150 pounds burns about 120 calories after exercising for 15 minutes on the stair climber exercise machine. Wearing a weighted vest or wrist ankle weights while exercising increases the intensity and burns more calories.
Conclusion
If you want a super good one, then turn to Xiser Commercial Portable Stepper, which will provide you with various exercise mode and excellent exercise experience. But if you have the budget limitation, choose HARISON Stand Up Mini Stair Stepper Machine or the Sunny one, both are the most value buy stair stepper with the lower price. To know the details of their function and then choose the one you need.
https://www.harisonfitness.com/wp-content/uploads/2021/09/harison-306d-6.jpg
1000
1000
Harison team
https://www.harisonfitness.com/wp-content/uploads/2022/08/HARISON-Back-to-Home.png
Harison team
2018-09-29 22:48:27
2022-08-26 09:49:51
Tips for Choosing the Right Mini Stair Stepper Machine