Recumbent Elliptical vs Recumbent Bike
Recumbent elliptical trainer
A recumbent elliptical trainer or a cross-trainer helps in doing a total body workout in a seated position and is very comfortable. It mimics the movement that occurs during running. It has a longer ellipse pedaling motion with low impact. It has a small range of motion. It is one of the most used equipment in rehabilitation exercises. The ergonomic design of the recumbent elliptical provides a natural stepping motion which will be helpful for a long workout session. Along with its low impact, it also provides cardio benefits. It burns more calories and helps in engaging muscles while working out.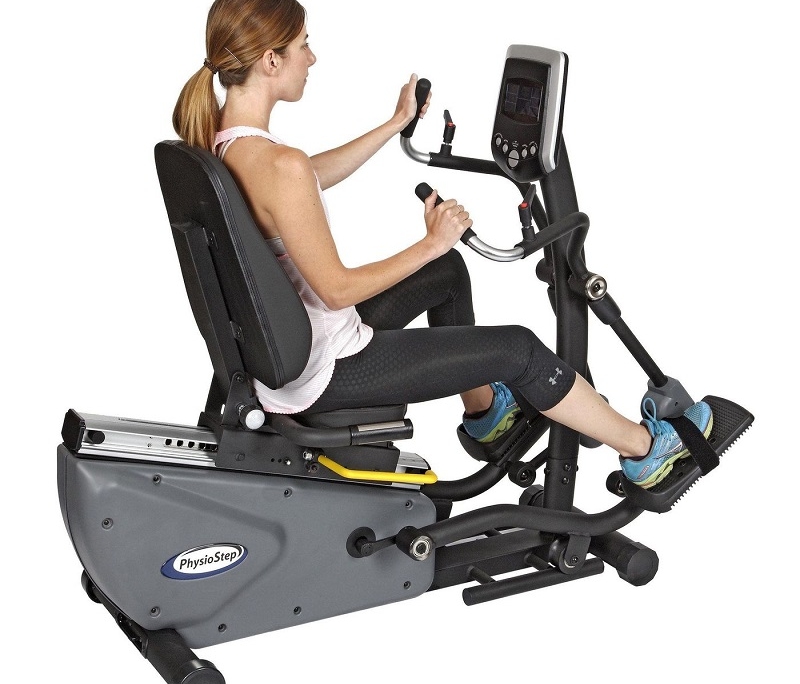 Recumbent bike
Recumbent bikes are stationary bikes that help in cardio exercises. In recumbent bikes, one can sit comfortably for a long duration of time. They provide proper support for back, which makes it easy for long-duration exercises. It provides a very good cardiovascular exercise for users of all ability levels. They are one of the best low impact cardio vascular exercise equipment.
Benefits of recumbent elliptical workout
A recumbent elliptical trainer provides a secure position for the back and thus proves to be very beneficial for people with back issues. As the person will be seated comfortably, there is less stress on the back. It is the most used rehab equipment. People of any age group find it easy and comfortable to use. It helps in working on the muscles and toning them and making them stronger. It is easy to get on and off the recumbent elliptical, even for those who are in a wheelchair. It is very beneficial to those who are recovering from knee problems or any injuries related to legs.
You May Like: HARISON B8: Best Recumbent Bike Workout Machine for Lower Back Pain
Benefits of recumbent bike workout
Recumbent bikes have a comfortable seat which helps in natural alignment of the lower back. They are gentle on all the joints and don't put much pressure. They have a large seat, which prevents discomfort or any kind of injuries that might occur while using an upright bike. The bucket seat protects the knees and ankles from getting injured. People with neurological conditions benefit more from this bike, as it provides a good workout for people of all ability levels. It helps in building strength in legs and reduces the risk of pain due to its low impact. People with rheumatoid arthritis find it easier to use this bike, as it has a reclining position with the weight spread over the buttocks and back. Although it mainly concentrates on the legs and back, it provides a total body workout.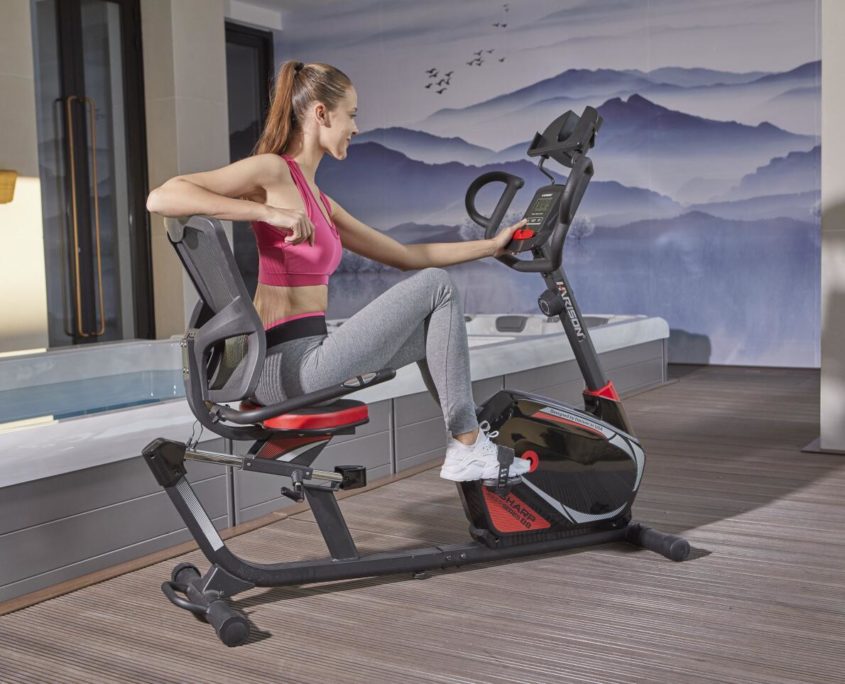 Who should use recumbent elliptical and who should use a recumbent bike
Recumbent bikes can be great for people who are new to workout. The chances of getting injured or straining their back are less with the use of a recumbent bike. As it provides a low impact total body workout, the newbie can even workout for a long duration and get used to this equipment soon. As they provide challenging workouts, people from all fitness levels can be benefited from these bikes.
These are also proven to be beneficial to the aged people who would prefer to have a comfortable and laid back workout, yet burns calories and strengthens and tones the muscles. People who are recovering from back or knee injuries can recover with this equipment. People with neurological issues can also use them, as they are easy to operate.
You May Like: Tips to Use Recumbent Exercise Bike
The recumbent elliptical can be used by everyone, either as a part of their fitness regime or as a part of rehab while recovering from certain injuries. Like a recumbent bike, recumbent elliptical also provides comfortable seating, low impact, and total body workout, and helps in strengthening and toning muscles. The only difference between a recumbent elliptical and a recumbent bike is that the elliptical has a longer ellipse pedaling motion with a small range of motion when compared to a recumbent bike.
Being that said, people can work out for a little longer duration on the elliptical than a recumbent bike. Apart from that, both of them provide as much as the same benefits and are proved to be beneficial to people belonging to all age groups and with different health issues and can conveniently workout even at home.
https://www.harisonfitness.com/wp-content/uploads/2022/05/第46页-153.jpg
1101
1369
Harison team
https://www.harisonfitness.com/wp-content/uploads/2022/08/HARISON-Back-to-Home.png
Harison team
2019-09-19 03:13:45
2022-08-26 08:57:31
Recumbent Elliptical vs Recumbent Bike